Apple's third-generation iPod shuffle no longer includes the familiar control pad of previous models, instead providing a slim, three-button remote controller on the headphone cable. As we reported last week, this means the new iPod shuffle is not currently functional with any headphones but Apple's own. While a number of vendors have announced plans for aftermarket headphones with a similar controller, none are yet available.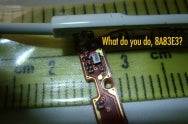 Over the weekend, Web sites iLounge and Boing Boing Gadgets both reported that Apple will be requiring any third-party headphones that wish to include this inline remote to include a special "authentication chip." Remote-equipped headphones that do not contain this chip, including the headphones included with the iPhone and iPhone 3G, would not be able to control playback on Apple's latest compatible devices. (Apple's remote-equipped headphones and compatible third-party models also allow you to control the most-recent versions of the iPod touch, nano, and classic, as well as control media playback when used with Apple's current MacBook and MacBook Pro.)
iPod-accessory vendors V-moda and Scosche, as well as other vendors speaking to Macworld anonymously, have confirmed these reports, though calling the circuitry a "control chip" rather than an authentication chip. As with Apple's dock connector and—more recently—proprietary circuitry necessary for iPods to output video signals to third-party accessories, Apple will charge vendors a fee, via the Made for iPod program, to include this new control chip in headphones and other accessories. In the past, vendors have told Macworld that such fees are passed on to consumers in the form of higher prices for iPod-compatible versions of common accessories.
An Apple spokesman confirmed the presence of the chip to Macworld. "As part of the Made for iPod program, we make sure that third party headphones work properly with the third generation iPod shuffle," the spokesman said.
However, there is no DRM in this new control chip, according to Monster Cable's Kevin Lee, who added, "In fact, it's not even authentication. It just gives us a way to control the iPod."
A V-moda representative provided Macworld with additional details about the chip. According to V-moda, Apple introduced, with the first iPhone, four-conductor headphone jacks and plugs, with those conductors handling left-channel audio, right-channel audio, microphone, and ground. Apple devised a way to send a special signal over the microphone "channel"; that simple signal was used for play/pause and answer/end. Starting with iPod touch, classic, and nano models released last fall, Apple included revised hardware in the iPod that, when paired with compatible headphones, allowed an inline remote to use the same microphone "channel" to send many more commands—play, pause, skip, scan, volume up, volume down, and more. This hardware is now present in the iPod shuffle. However, this new control system requires special circuitry on the controller end, as well. According to V-moda, the alternative to requiring the control chip in the headphones would have been separate remote-control circuitry with a separate remote-control jack, such as the ones used by several early iPod models.
Given the apparently simple nature of the new controller, it's not yet known if vendors will be able to reverse-engineer the control chip, or whether Apple will take legal action against vendors that do so. In the past, some third-party vendors reverse-engineered Apple's dock connector and produced products—with varying degrees of compatibility—without Apple's blessing to avoid paying licensing fees. As a result, Apple instituted the Made for iPod and Made for iPhone programs to indicate which accessories have met Apple's specifications (and, not coincidentally, which vendors have paid these fees).
[Updated 12:10 pm PT]: Added comment from Apple.
[Updated 1:41 pm PT]: Added more details about the new control chip and how it works.
Editor at Large Jim Dalrymple contributed to this story.