Some people relax with their iPhones using Zen Garden. Some of us prefer to chill by throwing virtual islanders to the sharks. If you're in the latter group, Pocket God is right up your alley.
The $1 game from Bolt Creative, mixes a little bit of Lemmings with a heavy sprinkling of The Sims, and the result is certainly amusing.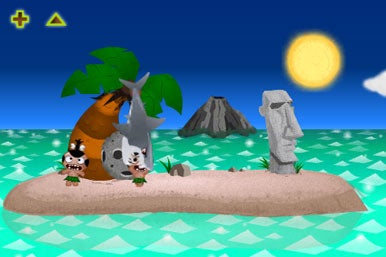 In Pocket God, you take on the role of a supreme being. You rule—rather cruelly, as it turns out—a beautifully drawn island and its surroundings. Your world initially features a sole islander, but you have an infinite supply of new islanders to add into the mix, should you desire. And indeed, you will desire new islanders, because you're inevitably going to kill the ones you start with. You are certainly not a benevolent god; if you only want to do good, Pocket God doesn't offer much.
Read more…
The joy of Pocket God is discovering all the stuff you can control. Tap on an islander, and he responds as if poked. Tap and hold, and you can drag him up into the sky, spin him around as fast as you can, or fling him into the ocean water. Aim right, and you can fling the poor guy right into the volcano in the background. That starts the volcano smoking. Toss a few more islanders in, and… well, I'll let you find out for yourself.
You can toss your islanders to the shark that swims by to feed him. Or you can yank the shark out of the water, and optionally toss him onto an islander instead. You can grab coconuts from the island's lone tree, but you'll have to figure out how to crack them open them if you want your islanders to eat. (Hint: The islanders have extremely pointy heads for a reason.)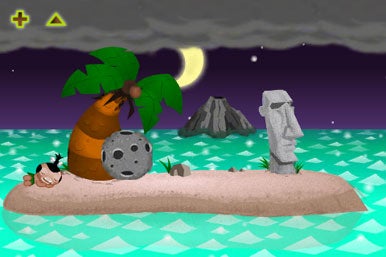 You're the god here, so there's more to control than just people and sharks. You also rule the weather. You can drag clouds around the sky, which is fun. If you bring in the storm clouds, you can drag crazy lightning patterns and—of course—zap your islanders. But you can also control the sun itself, which is even better. As you drag the sun towards the horizon, you'll create a colorful, rich sunset. (This has the bonus effect of hypnotizing your islanders.) Drag the sun completely below the horizon line, and it's nighttime. The moon appears, and you of course control it, too. When the moon is up, your islanders sleep… until you start messing with them.
And we haven't touched on all the ways you can make your islanders miserable. You rule gravity—tilt the iPhone, and everyone starts sliding. Shake it enough, and you'll cause an earthquake. Turn the iPhone upside down and the poor islanders will hang on for dear life. If you're feeling kinder, tap along to Pocket God's pleasant soundtrack. Soon enough, the islanders will all start dancing to your beat.
There are no points in Pocket God, and there's no real goal either. There's plenty to discover, and everything looks great—but once you've "done" it all, the game's replay value suffers. The good news: Bolt Creative has been rolling out near-weekly upgrades, adding new features (read: godly powers) with each new iteration.
Pocket God is compatible with any iPhone or iPod touch running the iPhone 2.2 software update.
[Lex Friedman prays you'll visit his ungodly blog.]