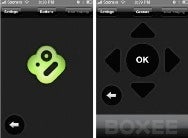 Boxee, everyone's favorite open-source home media software, has received a much anticipated enhancement. Whereas users who wished to use Boxee with a remote control were relegated to the overly-simple, standard Apple remote, the call for a more substantial remote has been answered with this latest iPhone app.
The free boxee iPhone remote app connects to Boxee via Wi-Fi and utilizes the iPhone's touch screen in an interesting way, providing a Buttons and Gesture mode. The Buttons mode simply provides the standard up, down, left, right, OK and back buttons on the iPhone screen along with a volume slider and stop/pause buttons.
The Gesture mode, however, turns the iPhone into a touchpad in which you drag an icon around the screen. The selections on your TV will change according to the direction you drag on the iPhone. When you get to a selection you want, a simple tap on the iPhone completes the process.
Another cool feature is that whenever you encounter a screen asking for text input, the iPhone virtual keyboard automatically pops up, letting you conveniently type your entries on the screen.
Reviews have been positive so far, so if you're a Boxee user who desires more remote control than what the standard Apple remote offers, this may be worth checking out.