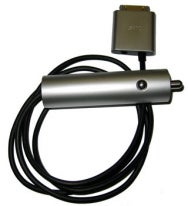 Accessory vendor SiK has announced the Pimp automobile charger and audio accessory. The unfortunately-named Pimp—which apparently gets that name by adding a P to the name of the company's older, similar Imp accessory—charges your iPod or iPhone from your car's accessory (cigarette-lighter) jack while providing a 3.5mm audio output for playing your iPod or iPhone's audio through your car stereo.
The aluminum-and-stainless-steel Pimp connects to your iPod or iPhone's dock-connector port both to provide power to the player and to grab the dock-connector port's higher-quality, line-level audio signal. The accessory includes a three-foot cable and works with both iPhone models as well as all dockable iPods since the iPod mini. (It provides power via USB circuitry, so it cannot charge third-generation and earlier iPods that require power via FireWire circuitry.) According to SiK, the Pimp includes a replaceable fuse and power filtering.
The $55 Pimp is currently available for pre-order directly from the company's Web site, and should be available for purchase from other vendors "soon."
Note: When you purchase something after clicking links in our articles, we may earn a small commission. Read our affiliate link policy for more details.