The Oscars have come and gone for another year, but stumping your friends with Academy Awards trivia is a year-round proposition. Awards: Oscar Edition (formerly known as And the Award Goes to…Oscar Edition) puts a database at your fingertips that contains every nominee and winner since the first Oscar ceremony in 1927.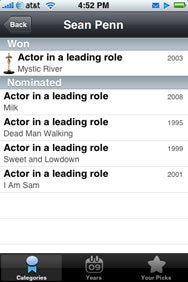 On its App Store page, developer Probably Interactive touts the app's interactivity—users could vote on their favorites for this year's ceremony, e-mailing their picks to friends or uploading them to Awards' server so that they could be tallied up along with other users' selections. (According to Probably Interactive, users predicted 20 out of the 24 winners.) Now that the Oscar ceremony is in the books, however, that feature won't come in handy until 2010.
So why is Awards still worth your attention? Because of its extensive database of Academy Awards nominees and winners. Three tab controls at the bottom of the screen let you search by award category in ascending alphabetical order or by year in descending numerical order. Picking any of the nominees or winners from any list will show you all of their additional nominations (for the current year) as well as their past nominations and wins.
There's one glaring omission—as of this writing, Probably Interactive hasn't updated the app to include the most recent winners. The developer has said that's in the works as well as more features for Awards' voting components. Probably Interactive also plans similar apps for other award ceremonies such as the Grammys and Golden Globes.
If you're a movie buff who wrestles every now and then with questions like what the best picture of 1952 was (The Greatest Show on Earth) or how Jack Nicholson has fared at the Oscars (three wins, 12 nominations), then Awards: Oscar Edition can save you a trip to Safari with its handy, easy-to-access list.
Awards: Oscar Edition 1.2 is compatible with any iPhone and iPod touch running the iPhone 2.x software update.
[ Tom Hesser loves tech and spends his time testing software on his iPhone, playing with a new gadget, hammering out a blog post, or trying to master the art of podcasting.]