Andrea Vettori's contact management and organization application ABContacts is jam-packed with powerful features to improve the experience of managing your iPhone or iPod touch contacts.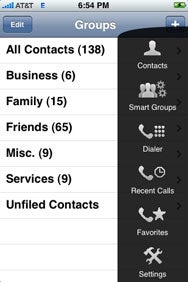 The developer built ABContacts with power in mind, not spectacular graphics. Because of this, learning to use ABContacts isn't overtly simple. But you can watch in-depth tutorial videos that help make the transition simpler.
Speed helps ABContacts stand out. The app loads fast, has features designed for quickly adding contacts, and offers a slick double-tap menu for completing contacts-related tasks in a simplified manner.
One of ABContacts' marquee features is Smart Groups. The Smart Groups within ABContacts can be created and modified using various rules. The vast, powerful rules can be assigned in conjunction with others for better results. The app will then search through your entire address book and grab the contacts matching the given criteria, with results appearing very quickly. For instance, you could create a rule in ABContacts that finds all the listings for employees at a specific company and then narrow it down to just the people whose phone numbers you have.
My favorite ABContacts feature is the program's filters. By using the built-in filters or creating a custom filter, I can narrow down contacts based on various data. For instance, I can use filters to list all my contacts with upcoming birthdays. Other interesting features include viewing favorites in a graphical view with their pictures, searching by dialer with T9, mass e-mail support, and—for jailbroken iPhone users—mass SMS. You switch views within ABContacts by tapping on the menu bar—a very innovative approach.
There is a free version— ABContacts Lite—but it lacks the higher-end features of the paid version such as smart groups, filters, favorites, the dialer and search.
ABContacts is address book management done right. While it requires some effort to get up to speed on the app's ins and outs, the powerful functionality of ABContacts more than makes up for it.
ABContacts is compatible with any iPhone or iPod touch running the iPhone 2.2x software update.
[ John Fuller is a freelance designer and writer from Texas.]