App Store patrons have downloaded The Weather Channel's iPhone app more than 3 million times since its November 2008 debut. But the weather giant isn't resting on its laurels—an upgrade to the free app for the iPhone and iPod touch is forthcoming, with a paid Weather Channel app in the pipeline, according to Louis Gump, vice president of mobile for The Weather Channel.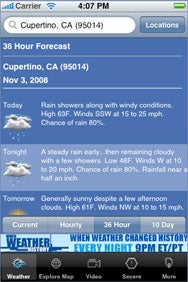 Citing Apple confidentiality restrictions, Gump would not disclose details of new features or specific rollout dates. But in a far-ranging interview with Macworld, he discussed the company's philosophy toward the iPhone and other mobile platforms, admitted some initial errors in the first release of The Weather Channel for iPhone, and provided some insight regarding how The Weather Channel's mobile unit goes about developing and updating applications.
Read more…
Besides its iPhone app, The Weather Channel has a mobile Web site and downloadable applications for the Blackberry, Palm Treo, and Windows Mobile PPC platforms. Those applications work on a subscription basis and cost $35 per year.
A 'goof' at rollout
Gump said that despite The Weather Channel's relatively long experience in the mobile market (it launched a mobile Web site in 1999 and released its first downloadable mobile application in 2002), the company still can be caught by surprise. "When we launched the first [iPhone] version [in November 2008], frankly we goofed on something. And the goof was that we tested the iPhone but we didn't fully test the iPod touch," Gump said. "And so what happened at launch was that we had a ton of five-star ratings and then we had a cluster of one- and two-star ratings from iPod touch users who said, 'Hey, this isn't working for me.' So we did a fix on that within a week or so, and as soon as we did that the comments started to be very predictable."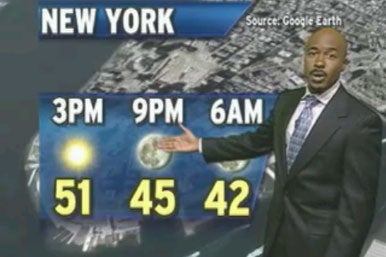 Another surprise was the popularity of the app's video clips. "That really popped," Gump said. "We put it in there knowing we have great video, but not knowing whether people would really use it. And it's turned out to be a very popular component of this application."
The Weather Channel has been downloaded millions of times, occupies the No. 1 spot among free apps in the App Store's Weather category, and has the backing of a cable company with global reach. But Gump says that consumers drive application development. "I personally read [the App Store] comments every week," he said, adding that such comments can point the way toward bug fixes as they did with the iPod touch. Perhaps more important, Gump said that the mobile unit pays a lot of attention to what additional features users say they want, both when planning new products and devloping upgrades to existing products.
"We know that we have a brand that really resonates with consumers," Gump said. "And we know also that we have platforms that are great for promoting our products. But when we start building applications we try to forget all of that. We try to say, 'Hey—no brand, no promotional capabilities—how do we build the best possible app that any rational person would choose to use every day?' That's a core thought. And then after we do that we try to layer back on the promotional capabilities, put the brand on top of that, and then go to market."
Paid app coming
A recurring comment on The Weather Channel app, says Gump, is, "Hey, I would be willing to pay for this application." And Gump says that The Weather Channel's iPhone business strategy includes a paid downloadable product. But he said that the first priority on the iPhone is to "have a first-rate ad-supported product." Though the company could have already generated "significant" revenue from a paid app, Gump says that the Weather Channel has focused on building a large number of users, knowing that "we have superior ad sales capabilities, so we can monetize it."
Part of what drives the big download numbers, says Gump, is that weather—especially in the mobile marketplace—is at the top of what he called the "news and information" hierarchy, ahead of straight news, sports, and finance and entertainment news. So The Weather Channel is already thinking past upcoming updates to its free application and the introduction of a paid product.
"We think there is an overreliance on just operational delivery" at the moment, says Gump, adding that while attention to the nuts and bolts of mobile delivery is crucial, "we all need to be thinking about what customers want. Rule No. 1 of mobile for us is: start with the assumption that mobile is different than other platforms, and then work backwards into the ways that it is similar." Simply porting Web sites to mobile platforms can be "a pretty significant mistake," he added. Though the information delivery might work, he says, The Weather Channel understands that it "can do better on an iPhone by building something specific for an iPhone. And we think that will be equally true in three to five years."
One key mobile technology for The Weather Channel is the company's TruPoint forecasting capability. "TruPoint enables us to give microforecasts for about every two kilometers in the United States and many other places, on a grid, so we can give extremely precise forecasts," Gump said. "We're using a portion of TruPoint right now on the mobile product, but not its entire functionality. So it's reasonable to believe that one of our initiatives is to bring the full functionality of TruPoint to our users. We do a great job with observations, but when you get into forecasting for specific points, not just three days out but also in 20 minutes, will the rain be at your house?—that's what we're going for."
Gump also emphasized that while The Weather Channel is committed to developing for any mobile platform in which there are significant long-term business opportunities, "the ones that are bigger or more robust are going to get more attention. iPhone and iPod Touch users are going to receive an extraordinary amount of attention, because the devices are very powerful, the user interface is intuitive, and there's a business model."
[Jeff Merron is a freelance writer and editor living in North Carolina.]