Portable hard drives are smaller and easier to tote around than typical external desktop drives. Some feature case designs that reduce impact shock.
With portable hard drives, USB is king (it's your only option with the MacBook Air [ ] and the latest MacBook [ ]), though there are FireWire and eSATA options. Some drives are bus-powered, which means they draw power from a FireWire or USB connection on your laptop, with no power adapter required. But some iBooks and PowerBooks do not supply enough USB bus power, so you'll have to either use a special cable that connects the hard drive to two USB ports or use the drive's power adapter.
There's always the chance that you'll lose your hard drive, so it's wise to secure your data. Data Locker offers portable USB 2.0 hard drives (160GB [$160] or 320GB [$200]) that feature hardware encryption options and a numeric touch screen where you enter a PIN to unlock the drive. The LaCie Safe Mobile Hard Drive with Encryption ($190) provides 160GB of secure USB storage through hardware encryption and fingerprint authorization.
There's also third-party software, like the free TrueCrypt, that encrypts content on just about any external drive. Though it's not as secure as hardware-based encryption, software encryption can stop all but the savviest hackers from accessing sensitive data.
External hard drives buying advice
Capacity Capacities range from 160GB to 500GB. If you have lots of media or graphics files, more is better. More capacity usually means a bigger bite out of your wallet.
Connectivity You'll use USB 2.0, FireWire 400, or FireWire 800 to connect to you Mac. Many drives feature multiple ports, but some offer only one (usually USB or FireWire 400).
USB is a must if you're sharing the drive between Macs and PCs, and it's your only option if your Mac doesn't have FireWire.
Speed The faster the platters in a hard drive spin, the better the performance is. Most portable hard drives feature 5,400- or 4,200-rpm drives.
Durability Falling off tables, surviving coffee spills, getting tossed with the crumbs at the bottom of your bag—these are just a few things portable drives face while serving duty. If you're accident-prone, look for case designs that reduce impact shock, prevent sliding, and provide protective port covers to prevent dust bunnies from wreaking havoc on your connection.
Added Features Almost all USB or FireWire external hard drives are compatible with Time Machine, as long as the drive is HFS+ formatted (and, of course, you must be running OS X 10.5, which includes Time Machine). Some drives include extras such as bundled software, one-touch backups, and software encryption.
Our favorite portable hard drives
The Buffalo 500GB MiniStation TurboUSB ( ) is a durable little black brick. This USB-only drive uses a 4,200 rpm hard drive mechanism. Read our full review. [$170 (Get best current price for the Buffalo 500GB MiniStation TurboUSB); Buffalo Technology]
The G-Technology G-Drive mini 500GB ( ) packs a 5,400-rpm or 7,200-rpm disk, includes a protective leather case, and provides bus-powered FireWire 400/800 ports and a non-bus-powered USB port. Read our full review. [$399 (5,400 rpm) or $529 (7,200 rpm) (Get best current price for the G-Technology G-Drive mini 500GB); G-Technology]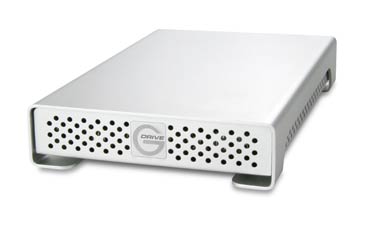 The orange rubber life preserver on the LaCie Rugged All-Terrain Hard Drive ( ) works with the drive's internal nubbins to protect against shocks and slips. It has bus-powered FireWire 400/800 and USB ports. Read our full review. [$160 for 320GB (Get best current price for LaCie Rugged All-Terrain Hard Drive 320GB); LaCie]
[Writer, music composer, photographer, and pack rat Kris Fong has archived tens of thousands of files. Now if she could only remember what's stored where…]
Note: When you purchase something after clicking links in our articles, we may earn a small commission. Read our affiliate link policy for more details.