Starting this summer, iPhone users won't have the lack of copy-and-paste functionality to kick around anymore. Apple Tuesday announced that the oft-requested ability to copy text, HTML, and photos will appear in the iPhone 3.0 software update—along with more than 100 other new features.
iPhone 3.0 is the next version of the operating system for Apple's iPhone and iPod touch mobile devices. The OS update, which is slated for a summer release, received a sneak preview from Apple during a press event Tuesday at the company's Cupertino, Calif., headquarters.
While Apple promises many improvements and enhancements with the iPhone 3.0 update, it was clear Tuesday that copy-and-paste functionality was the star of the show. In fact, Apple senior vice president of iPhone software Scott Forstall began his presentation on the end-user-focused changes slated for iPhone 3.0 with a demo of the copy-and-paste feature.
Users can select text with a double-tap, which brings up a cut/copy/paste bubble. Adjust the selection points—marked by two blue pins—by dragging your finger; when you've grabbed the text you want, tap on either the cut, copy, or paste button. Once you've copied text, you can paste it by double-tapping to again summon the cut/copy/paste bubble and adjusting the insertion points.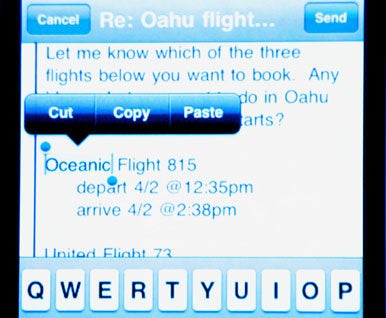 In iPhone 3.0, users will not only be able to copy and paste text, but also blocks of HTML and photos. You'll also be able to copy and paste between applications—placing text from a Note in an e-mail, for example. As demonstrated Tuesday, the new cut, copy and paste features only work in Apple's built-in applications, but developers will have the chance to add the functionality to their apps with the iPhone 3.0 Software Development Kit.
In addition to adding copy-and-paste features, Apple also plans to bring landscape orientation to all the key iPhone apps. Right now, the feature is available in Safari—turn your phone sideways, and the browser reorients itself horizontally, bringing up a wider keyboard and an easier-to-view layout. In iPhone 3.0, that functionality will come to other apps including Mail, Notes, and the built-in messaging client.
Speaking of that messaging client, its name changes from SMS to Messages with iPhone 3.0. The name change is more than just cosmetic: it signals the arrival of support for MMS, or Multimedia Messaging Service. This enables you to send and receive photos, contact information (using the vCard standard, which will automatically add it to your Contact list), audio files, and locations. The new Messages application not only supports MMS, but it can also forward and delete multiple messages as well as individual ones.
iPhone 3.0 introduces a new app—Voice Memos—which lets you record audio files. You can use the iPhone's built-in microphone or an external microphone, edit the memo, and share it by e-mail or MMS.
iPhone 3.0 will also add support for a new calendar format—CalDAV, which is supported by Yahoo, Google, Oracle, OS X Server and others, as well as .ics. Apple touts the former as ideal for shared family calendars while the latter is commonly used for sports schedules, national holiday lists, movies, and more.
The forthcoming iPhone OS update also tackles search in a big way, with capabilities added to Mail that let you search messages, From, To, Subject and all other headers. If what you're looking for isn't on the iPhone, you can continue your search on the mail server, if you're using Exchange or most IMAP servers. You'll be able search in your Calendar, iPod, and Notes as well.
The other major search addition is a new Spotlight feature that lives to the left of the original home screen. Flick to the left, and you'll see a search field. The Spotlight app searches across the iPhone for whatever word or phrase you need to find. In his demo Tuesday, Forstall noted Spotlight's ability to search for apps—a handy time-saver for iPhone users who might otherwise have to flip through several screens of App Store downloads to find the right application.
Other new features outlined by Apple Tuesday include Note sync with the Mac (or PC) through iTunes, the ability to shake to shuffle your music (a feature previously seen on the newest iPod nano), Wi-Fi automatic login, stereo Bluetooth support (for devices that support the A2DP profile), YouTube account log-in, enhanced support with better keyboards for different languages, auto-fill, anti-phishing, and extended parental controls.
The new release will be a free update for all iPhone users, though Apple cautions that certain features, such as MMS and stereo Bluetooth support, will not work on the original model released in 2007. Apple executives explained on Tuesday that those features require hardware that wasn't built into the original phone.
iPod touch users will also be able to upgrade to the new OS, though not for free. The iPhone 3.0 will cost touch owners $10 to upgrade—the same amount Apple charged them to upgrade to iPhone 2.0.
While the new software won't be available until summer, developers will get an early crack at it, through a beta that's now available. In addition to the features aimed at end users, the iPhone 3.0 update also introduces a number of tools for building third-party apps.
Updated at 3:10 p.m. PT to include more information from Tuesday's iPhone 3.0 demo.