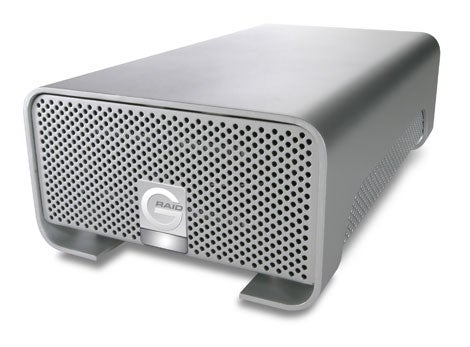 Earlier this year, we reported that Hitachi Global Storage Technologies (GST) acquired Fabrik, the parent company of G-Technology and SimpleTech, manufactures of external hard drives. So it comes as no surprise that G-Technology drives use Hitachi-made hard drive mechanisms. On Tuesday, Hitachi GST announced that the G-Technology line of storage devices that use 3.5-inch hard drive mechanisms will now have a 2TB option.
The 2TB mechanisms are rated at 7200 rotations per minute (rpm), and come with a 32MB cache buffer. G-Technology says its drives are ideal for video editing, graphics, and other digital media professionals.
Prices for the 2TB-equipped G-Technology drives vary. The 2TB G-Drive, a single-mechanism drive with FireWire 800, USB 2.0, and eSATA, is $379. The 4TB G-RAID, which uses a pair of non-removable hard drive mechanisms, is $649.