Apple has updated the firmware that controls its Mini DisplayPort to VGA adapter. The software is available for download from Apple's Web site.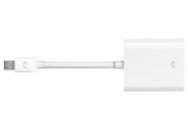 Mini DisplayPort is the video interface found on newer Macs. It debuted on the revised MacBook last fall and has since been adopted by all updated Mac models, including the Mac mini, MacBook Pro, iMac and Mac Pro. DisplayPort is a new industry standard for connecting displays to computers, and Mini DisplayPort is a smaller interface that Apple has introduced, which has also been adopted as part of an update to the standard.
The Mini DisplayPort to VGA adapter enables these newer Mac models to connect to older analog displays, such as many low-end flat panels or CRT-based monitors. It's a dongle that connects the Mini DisplayPort connector on the Mac to the display cable.
The update, which updates the firmware in the circuitry on the adapter itself, "addresses intermittent flickering and compatibility issues such as no video on some external displays," according to Apple.
In order to use it you, you must have the Mini DisplayPort to VGA Adapter plugged into your Mac and a compatible display, and your Mac's power adapter should be plugged into an outlet.