At a Glance
Expert's Rating
Pros
Easy to use
Internet access
Pleasing audio and video
Cons
Poorly implemented picture-in-picture
Our Verdict
Samsung's 46-inch LN46B750 packages very good picture quality, excellent sound, YouTube viewing, Yahoo Widgets, and the ability to play media files from USB storage, all in one HDTV. And it does all that while being remarkably easy-to-use.
This HDTV earned an overall score of Very Good in our labs' image-quality tests. The LN46B750 is a 240Hz LCD, and that fast refresh helped it excel in the Labs' motion tests. This LN46B750 also earned high marks in several tests intended to determine how well a TV can handle vertical, horizontal, and diagonal motion. It's an excellent choice for action movies or sports.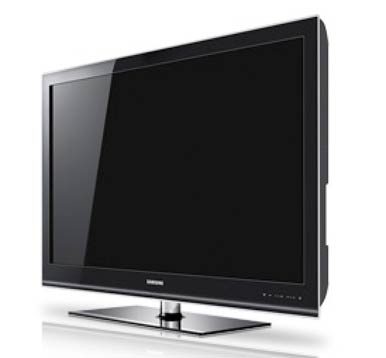 The LN46B750 also scored particularly well in our brightness and contrast tests, but there were some problems. Our judges complained about certain scenes looking dull, others appearing too bright, and still others seeming "a bit too yellow."
Image quality isn't the only thing that Samsung gets mostly right with the LN46B750. This TV also sounds about as good as you could reasonably expect a TV to sound. You have to turn the volume all the way up (which I'm not suggesting) to hear any strain. The speakers have enough power to give a loud organ blast its intended effect, and the SRS TruSurround HD pseudosurround pulls you into the environment. It can't do the work of a real surround system, of course; cinephiles and music lovers will want to invest in a separate surround amplifier and speakers.
Connect the LN46B750 to your router via an ethernet cable, and you'll have access to a good selection of Internet video on your TV. You get a full complement of Yahoo Widgets, which can appear on screen at the push of a remote button. The widgets display news, weather, sports, financial info, Flickr, Twitter, and full-screen movie trailers that look pretty decent. Samsung also provides the ability to view YouTube on your TV. Though the set has an option for displaying YouTube videos full screen, it's not on by default—and that's good, because YouTube's low resolution looks awful on a 46-inch screen. The LN46B750 can also stream movies via online services from Amazon and Blockbuster, but at this time it offers no Netflix support.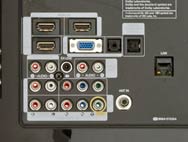 Using the USB port, you can play MP3 and JPEgs files stored on a USB device, such as a flash drive. The user interface to access these files is easy to use and trouble-free, and it includes a photo slideshow feature with numerous options, such as your choice of musical accompaniment. The LN46B750 can also access a Digital Living Network Alliance (DLNA) device, such as a PC running Windows Media Server, but it can't access a networked Mac.
Samsung has done a great job making the LN46B750 easily usable. The inputs are all well placed, so you don't have to be a contortionist to plug in a new Blu-ray player or DVR. The wizard that helps you set up the TV the first time you turn it on asks all the right questions, such as whether you'll be using this TV at home or in a store (this makes it easier to optimize the settings for best quality depending on the TV's location). The attractive, readable, and intuitive main menu also helps make this a straightforward TV to handle—and if that main menu is too much for you, just press the remote's Tools button for a shorter selection of commonly changed options. The often annoying job of changing inputs (from the cable connection to the DVD player to an old VCR, for example) is made simple by an on-screen menu that places the inputs you actually use at the beginning of its list of all the TV's inputs.
That's not to say that the user interface is free of issues. Although the LN46B750's main menu offers explanations of its various options, those explanations aren't always helpful. The Energy Saving option, for instance, is described merely as 'Turns the Energy Saving function off.' (You have to go to the manual to discover that this feature lowers the brightness of the backlight across all inputs.)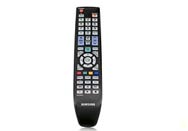 Though the menus may have the occasional flaw, I'd be hard-pressed to find any at all in the remote control. It's large, and it makes its easy-to-find-and-push buttons even easier to use with a backlight that comes on in the dark. In addition to the above-mentioned Tools button, it has convenient buttons for Internet access and the media player.
The remote does lack a picture-in-picture button, though, despite the fact that the LN46B750 has picture-in-picture. To access PIP you need to use the main menu or the tool menu. PIP works only for viewing the tuner's content and one external source, and you must be viewing the external source in order to turn PIP on.
Samsung LN46B750
| | |
| --- | --- |
| Performance | Very Good |
| Features | Superior |
| Design | Superior |
Scale = Superior, Very Good, Good, Fair, Poor
According our lab results, this Energy Star 3.0-compliant HDTV consumes about 120 watts when in use, and less than a tenth of a watt (the lowest amount our equipment registers) when off.
The LN46B750 has a modest built-in gallery of paintings, a number of recipes, one game, and other content. You might find the game fun, but the other bundled content isn't worth much. The few paintings are without titles and cropped to a 16:9 aspect ratio. And unless you want to put a 46-inch HDTV in your kitchen, the recipes are of little value.
Macworld's buying advice
With its excellent images and sound, its Internet and home-network connectivity, and its all-around ease of use, the LN46B750 is definitely worth the price.
[ Lincoln Spector is a contributing editor for PC World.]