There are two really good reasons to practice green computing: It saves you money, and—bit by bit—it helps save the planet. It's a major win-win. Here are just a few of the little things you can do to make a big difference.
Buy a Laptop
If energy conservation is your top priority, your next computer should be a laptop. Notebooks are by nature stingy with energy because they're designed to run off of a battery for hours. The MacBook Air ( ) consumes just 13 watts when idling with the monitor on; that's less than some compact fluorescent light bulbs. (For more on energy consumption, see "The Power Office".)
The MacBook Pro ( ) takes hardware efficiency further by offering two graphics processors. For heavy graphic lifting, you can choose the Nvidia GeForce 9600M GT (which requires more juice), but for everyday tasks, stick with the default Nvidia GeForce 9400M (which uses less power). To make the choice, go to System Preferences: Energy Saver and, under Graphics, choose Better Battery Life (for the 9400M) or Higher Performance (for the 9600M GT).
Energy Saver and Beyond
All new Macs ship with OS X's Energy Saver feature turned on. According to Apple, a Mac uses about 77 percent less energy in this low-power mode than when it's running at full power. You can save more by customizing Energy Saver in System Preferences, and third-party energy utilities can help you save still more.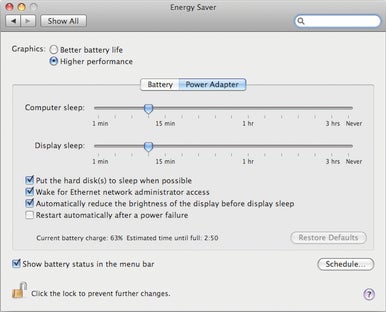 Faronics' $14 Power Save Mac analyzes your computer use to determine when the Mac can take advantage of downtime to reduce power consumption. It's specially designed for networks; the savings on multiple machines can add up.
Dragon Systems' $29 Power Manager 3 saves energy by automatically turning your computer off when you're not using it, and then starting it back up when you'll need it. Energy Saver has a function for this, but Power Manager offers greater flexibility and more off and on times. Dragon also makes a free widget called Energy Schedule, which you can use to see upcoming shutdowns and restarts—even if you don't use Power Manager.
Pick Peripherals Carefully
Monitors, printers, and external hard drives can suck up as much power as, or more power than, your computer if you're not careful.
When you shop for peripherals, look for the Energy Star designation. Energy Star is a joint program of the U.S. Environmental Protection Agency and the U.S. Department of Energy, and it sets energy-efficiency standards. Products must meet a variety of guidelines to be deemed Energy Star-compliant—for instance, computer peripherals must have a low-power sleep mode that kicks in after a period of inactivity. Monitors and printers can be Energy Star-compliant; for hard drives, seek Energy Star power adapters.
Here are some other tips for buying greener peripherals:
Monitors Unless you have specific reasons to own a CRT, get an LCD. A typical LCD requires 25 watts; a CRT, 75. And if you need a lot of room, get a big one instead of two of them: productivity increases with multiple monitors, but so does energy consumption.
Printers Two sides are better than one: choose a printer that does duplex printing, so you can save paper by printing on both sides. And look for a model that offers a draft mode, which lets you use less ink when appearance isn't as important.
Hard Drives Look for "green" drives: Western Digital and Fantom are selling new drives with energy-saving technologies that the companies say can reduce energy use by 4 to 5 watts. If you can spare the speed and storage space, choose a 5,400-rpm, 2.5-inch external drive made for your laptop. Western Digital's 500GB Caviar Blue desktop model idles at 8.4 watts; the mobile Scorpio Blue idles at just 0.85 watts.
Maximize Your Savings
Energy-saving peripherals are only as good as you allow them to be. So make sure you enable whatever energy-saving features they come with (such as automatic shutdown on a printer).
To save more money on printing, stop doing it so much. For example, use the PDF option in OS X's print dialogue boxes to create digital pages instead of paper ones.
If you need to put ink on paper, print-management software can help you conserve both. GreenPrint Technologies' $20 GreenPrint Mac makes it easy to print only the pages that you really need from a document. Another option is to pick a font that doesn't use so much ink. Spranq's Ecofont (payment requested) is a font that omits as much of a letter as it can while still being legible. It takes some getting used to, but the company says it uses about 20 percent less ink than a traditional font.
Just as you should think twice before printing anything, consider whether you really need to burn data to a disc—and perhaps employ reusable digital media instead. Throw that same data on a thumb drive, which you can reuse endlessly, or upload it to a remote storage service such Apple's MobileMe ($99 per year) or Evenflow's Dropbox (free for 2GB), which gives you or anyone else you want to share your data with access to it over any Internet connection.
Power Down
The best way to save energy and reduce your environmental footprint is to turn your equipment off—literally. When you're done, shut it down. Letting your computer sleep is good, but a sleeping Mac is still using 1 or 2 watts. Turning it off altogether reduces the load even more: 0.55 watts for a MacBook.
It's true, your electronic devices still consume power even when they are "off." The only way to truly cut their power use to zero is to unplug them—or you could connect your Mac and its peripherals to a power-smart power strip.
Sophisticated Circuits' $200 PowerKey Pro USB 650 lets you choose which devices will be completely powered down. A simpler option is Hobbes's $20 Mini Power Minder, which includes ports for your USB-powered peripherals.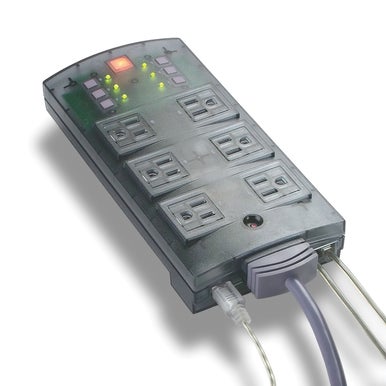 The next frontier for power-conscious people is to skip the grid by harnessing the sun's energy. Several solar chargers are available for iPods, iPhones, and other gadgets, but such chargers for laptops are rarer. The trick is to find a solar charger that will charge your battery, not necessarily one that'll run your laptop. One of Brunton's $655 SolarRolls outputs 14 watts, for example, which should be enough to slowly charge your battery. Voltaic's $599 Generator is a capable of 15 watts, and Sunshine Solar's £79 Briefcase Charger can put out 13 watts—on the low side, but enough to get your battery back on its feet.
Michael Gowan is a freelance writer who tries to practice what he preaches, as much as he can.