At a Glance
Expert's Rating
Our Verdict
Apple's latest versions of Safari and iTunes (4 Beta and 8.1, respectively) offer many new features, but some folks are nostalgic for The Way Things Were—they're not fans of new interface elements or default settings in recent versions of these apps.
If you're a frequent reader of Mac OS X Hints, you know that there are many "hidden" settings in Safari and iTunes, most of them accessible via Terminal commands. (Rob Griffiths recently summarized a number of these commands for Safari 4 Beta.) But if you're not a fan of Terminal, a couple vendors have created easy-to-use programs for changing these hidden preferences. (These utilities simply issue the Terminal commands for you, behind the scenes.) While some of the everything-but-the-kitchen sink tweaking utilities out there have recently been updated to provide access to these settings, the two programs below are simple and safe to use, easy to understand, and free.
Safari 4 Modifier
The release of Safari 4 Beta brought many interface changes to Apple's browser, including a new tabs interface. Unfortunately, some people aren't fans of these new interface elements. Safari 4 Modifier provides quick access to 14 hidden settings. Launch the program, check a setting to enable it or uncheck the setting to disable it, and then relaunch Safari (changes don't take effect until Safari is relaunched). Some of the most significant settings you can change are:
Tabs on Top: When unchecked, moves tabs to their Safari 3 position (below the Address Bar) and restores the title bar.
Toolbar Redesign: When unchecked, restores the toolbar to its Safari 3 layout by removing the Bookmarks button, the Reload button within the address field, and the spinning progress indicator.
Use New Load Progress Style: If you've disabled the Toolbar Redesign setting in order to restore the Safari 3 toolbar, this setting determines which progress indicator you see: checked gives you the newer, circular status indicator; unchecked gives you the Safari 3 address-field-filling progress bar.
CoverFlow in bookmarks: When unchecked, disables the Cover Flow view in Safari 4's bookmarks.
Google Suggestions: When unchecked, disables the new drop-down list of suggestions, search history, and find-on-page when you start typing a search into Safari 4's Search field.
Fancy URL Suggestions: When unchecked, disables list of suggested URLs that appears when typing a URL into the address field, reverting to Safari 3's simpler list of previously-accessed URLs.
Top Site Features: When unchecked, disables the Top Sites feature (and even removes its icon from the toolbar).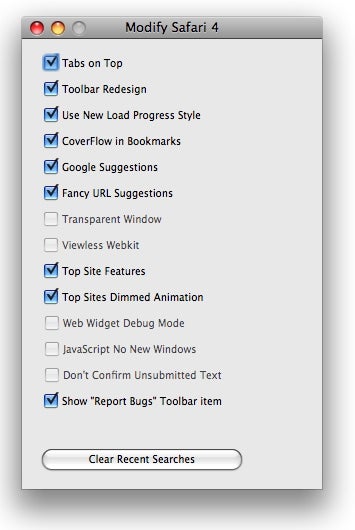 There are also a few others; hold your mouse cursor over a setting for a second or two, and a tooltip will appear explaining the setting. (Although several settings are dimmed on my Macs.) There's also a button to clear the Recent Searches list.
Safari 4 Modifier is easy to use and works well. One improvement I'd like to see is for the developer to make it clearer that you need to relaunch Safari for your changes to take effect. For example, an Apply button that, when clicked on, pops up a dialog with a message such as "For changes to take effect, you need to relaunch Safari" and buttons to Relaunch Safari Now or I'll Do It Myself Later.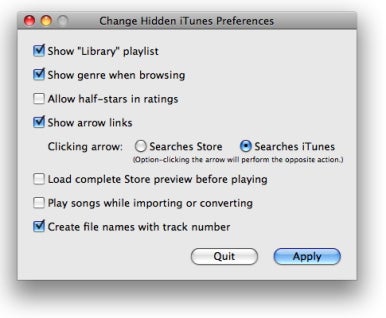 With each big new version of iTunes, it seems Apple makes a couple tweaks that people don't like, while leaving a back door open, so to speak, to return to the previous appearance or behavior. As a result, over the past couple years we've seen a growing list of hidden iTunes preferences. Doug Adam's Change Hidden iTunes Preferences, for iTunes 8.0 and later, lets you do exactly what its name implies via a single window. The tweaks include:
Show "Library" playlist: Brings back the "everything bucket" Library item in iTunes' sidebar; this item includes everything in your iTunes library. (In iTunes 8, Library was removed in favor of separate items for Music, Movies, TV Shows, and so on.)
Show genre when browsing: Restores the Genres column to iTunes' Browser view.
Allow half-stars in ratings: Enables the long-available, but hidden, feature for rating tracks and albums in half-star increments.
Show arrow links: When checked, shows the arrow "button" next to each track, album, and artist; but you can also choose whether clicking this arrow takes you to that album or artist in your own library or performs a search for the item on the iTunes Store.
Load complete Store preview before playing: Restores an option, removed in current versions of iTunes, to load the entire iTunes Store preview of an item before beginning playback.
Play songs while importing or converting: Restores another previously-available option, this one to play songs while importing them.
Create file names with track number: Restores a previously-separate option that in iTunes 8 was folded into the Keep iTunes Music Folder Organized setting.
Make your changes and click on Apply; you'll see a message that the change has been made and you can launch iTunes. If iTunes is running, you'll see a dialog asking you to first quit iTunes and then return to Change Hidden iTunes Preferences and click on Apply again.
(According to the program's ReadMe, you install the program by putting the application and an AppleScript, Change Hidden Prefs.scpt, in ~/Library/iTunes/iTunes Scripts. However, this approach is mainly for convenience—it adds a new Change Hidden Prefs item to iTunes' scripts menu that, when chosen, launches Change Hidden iTunes Preferences. You can instead choose to drag just the application into your Applications folder and launch it from there when needed.)
If you ever want to delete a setting from your iTunes preferences file completely—that file is a simple XML text file, and each setting is just a bit of text—the program offers Delete Checked and Delete All commands in the File menu. The program's documentation explains the possible reasons for using this feature: "You may want to do this perhaps if a future version of iTunes balks at these settings or you decide that messing with the iTunes preferences file is a bad thing."
Like Safari 4 Modifier, Change Hidden iTunes Preferences is simple and works. If you're not comfortable with Terminal commands, it's a safe alternative.
Want to stay up to date with the latest Gems? Sign up for the Mac Gems newsletter for a weekly email summary of Gems reviews sent directly to your Inbox.