At a Glance
Expert's Rating
Pros
Good photo stills
Comfortable and easy to use
Works with iMovie '09 without a hitch
Cool Night Shot and super slow motion shooting modes
Excellent image quality
Cons
No progressive video mode
External mike input available only through Active Interface Shoe
Requires cumbersome docking base to connect to Mac
No headphone jack
Our Verdict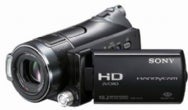 Sony's HDR-CX12 HD camcorder is in the top tier of the company's consumer camcorders lineup. Recording to a SDHC memory card, the camera sports a 1/3-inch imaging sensor—a rather large size for a consumer HD camcorder—and HDMI output. It records AVCHD video at a data rate of 16Mbit per second, which is good, but not at the top of the heap. And video from the HDR-CX12 imports into iMovie '09 without a hitch.
Overall, the shooting experience with the HDR-CX12 is quite comfortable. For manual adjustments as you shoot, Sony thoughtfully included a great control wheel. Generally speaking, it's much faster and more natural to use an analog wheel than it is to fiddle a little joystick or click through menus using buttons when you want to manually adjust focus, zoom, exposure, shutter speed, and so on. The intuitive controls make it much easier to shoot in challenging situations or when you want to do more than just capture basic home movies.
The HDR-CX12 doesn't have a viewfinder. Some may say that's a knock against the camcorder, but I think a viewfinder is an unnecessary feature. Most people who use a consumer camcorder like the HDR-CX12 forget they even have a viewfinder. It's a waste of space.
However, what the HDR-CX12 is sorely missing is an external microphone input that would let you connect your own mike. Without one, you're limited to the camcorder's built-in microphone or to mikes that support the Active Interface Shoe, which is on the HDR-CX12. The onboard mike provides good quality audio and, for many, that will be enough. But if you are thinking of creating your own video podcasts and adding professional-sounding audio to your production, you need a separate mike. The HDR-CX12 does have a Active Interface Shoe shotgun mike available (the $70 ECM-HGZ1), but it's not enough for most podcasters. Sony also has a wireless mike, the $230 ECM-HW2, which uses a Bluetooth receiver that connects to the HDR-CX12's Active Interface Shoe, and a Bluetooth wireless mike with a range of about 100 meters.
The HDR-CX12 also doesn't have a headphone jack. It's a bit frustrating to not be able to hear the audio that's being recorded by the camcorder at times when you need to.
The camcorder comes with a docking base that you must use to connect to your Mac to capture recorded video and charge the camera—the HDR-CX12 itself doesn't have a USB port built in. If you are on the road, this will drive you really crazy, because you have to carry the base around with you, and it's not as efficient as simply using a cable and a USB connection on the camcorder. You can capture video directly from the HDR-CX12's Memory Stick with a reader, but that means you have one more thing in your bag. The dock isn't as much of an issue if you're just using the camcorder at home.
Output quality
The HD video image quality is stunning for a consumer camera of this size. In my resolution tests, it was hard to believe I was looking at a sub-$1,000 camera. I used Sony's HDC-F950 (the HDR-CX12's $116,000 big brother) as a baseline for evaluating the HDR-CX12's image quality, and the two didn't look bad side by side. If you are looking for great video quality for a low price, the HDR-CX12 has it. The color and saturation are accurate (even when using Auto-White Balance) and the high quality of the image sharpness is very unusual to find at this price point. Typically, a lot of shenanigans are employed to get something that a camera company can call full 1,920-by-1,080 HD, and you can usually see subtle aliasing on resolution charts. I didn't see any of these symptoms in the HDR-CX12.
I also found that the photo stills are good, but not great. The stills come in at 3,680 by 2,760 pixels, which means that you should be able to turn them into decent prints. I don't think the color and sharpness quite hold up to that of a digital still camera at the same resolution, but I'm a little old-fashioned and still use a still camera for stills myself. If you need a multi-use camera, the HDR-CX12 will work in both areas better than most.
If you want to edit full-resolution video from the HDR-CX12, it's important to know that there's no progressive mode on this camcorder—the only resolution the camcorder supports is 1,920 by 1,080i. If you are planning to shoot for broadcast TV, this won't be an issue. But if you are planning to shoot and then edit the video on your Mac, interlaced video will create unwanted "jaggies" when there's camcorder or subject movement. (On a side note, I don't know why consumer cameras even have interlaced footage anymore. We have LCD screens and computers on which to view our work, both of which benefit from progressive video.) One caveat: if you are using iMovie '08 or '09 and you've decided (rightly so) to work at 960 by 540 pixels (which is really enough for any HDTV that's smaller than 37 inches), iMovie intelligently throws away a field and provides you with solid video.
The 16Mbit per second data rate that the HDR-CX12 uses is, in my opinion, a little low; it's within the average range for camcorders but it's really a shame, given the quality of the sensor. Canon's Vixia HG21 provides a 24Mbit per second data rate (the full AVCHD bandwidth). If you want the absolute best image quality, the camera comes up a little short. While Sony's sensor captures the most minute detail, the fast-moving scenes and camera movement at a lower bandwidth can suffer from the higher compression rates. Many will not notice the difference in most shots, but when there's a lot of movement, the lower-bandwidth image will be more prone to falling apart (which will often look like blockiness).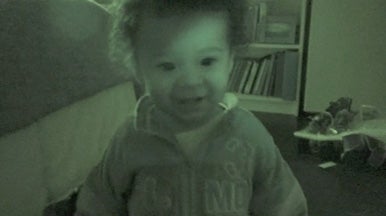 The HDR-CX12 has two unique features that work really well. The Night Shot feature, which can capture video in complete darkness, is well implemented. I thought it was a gimmick but it really shoots cool images in extreme low light or barely any light, and it's not cheating by gaining up the image and changing its color. Rumor is that this feature can see through clothes, but I chose not to test that. The other geeky but crazy cool feature is a 240 frames per second mode. That's eight times slower than normal. It's limited to only 3 seconds of recording time (24 seconds playback) and it's very compressed, but the results are magical slow motion videos. There's just something about viewing the mundane elements of life in extreme slow-mo that is mesmerizing.
Specifications
| | |
| --- | --- |
| LCD Size | 2.7 inches |
| Optical Zoom | 12x |
| Still image resolution | 5 Megapixel |
| Size (WxHxD) | 3.27 x 2.99 x 5.43 inches |
| Weight (ounces) | 16 |
| Video Codec | MPEG-4/H.264 AVC |
Macworld's buying advice
The Sony HDR-CX12 is a classic Greek tragedy. It has so much potential—great image quality, manual control, and great extras—that are marred by serious shortfalls—camera dock requirement, lack of external audio in, and no progressive modes. If you can get over these, you'll enjoy the HDR-CX12.
[Alex Lindsay is the founder of Pixel Corps, a training and production guild specializing in digital media. Alex has been involved in computer graphics work for nearly 20 years.]