Canon U.S.A. has introduced three new models for its LV series of digital multimedia projectors, the LV-8300, LV-7375 and LV-7370. They will be available in mid-March and will cost $1,400, $1,800 and $1,300 respectively.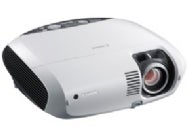 Each of the projectors is aimed at home or office use, where you need to project images in large and small rooms, including classrooms and meeting rooms where there is ambient light you might not easily be able to control. They work with desktop and notebook computers, Blu-ray Disc and DVD players, VCRs, digital cameras and camcorders, and feature DVI-I interfaces that enable you to connect high-definition content that's protected using HDCP.
Features shared by the projectors include five image setting modes to choose from, including Standard, Presentation, Cinema, Video and sRGB, aspect ratio control and Whiteboard Mode, which reduces reflective white spots when working on a whiteboard. They also sport built-n carry handles, Quick Startup and Shutdown features, and simplified control panels; on-screen menus in 21 languages, auto-keystone correction that will automatically detect any tilt in the projector and attempt to compensate; closed captioning and seven-watt speakers.
The LV-8300 sports native 1280 x 800 pixel widescreen (16:10 aspect ratio) resolution, while the LV-7535 sports native 1024 x 768 resolution. The LV-7370 is also a 1024 x 768 resolution model. The LV-8300 and LV-7370 output at 3000 lumens brightness; the LV-7535 can output at 3500 lumens.