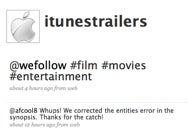 We all know that Apple operates on strict rules of secrecy that make the Cold War-era Kremlin look talkative. That's the reason you don't see Jobs signing onto his WordPress blog and dishing out his thoughts on how great an opportunity it's been for Apple to have Steve Ballmer as CEO of Microsoft.
However , it turns out that they are not quite as tight-lipped as one might imagine. Gather round, dear readers, and let me introduce you to one of the newest members of popular social networking Web site Twitter— the Apple Move Trailers Web site. Of course, the trailer page has long been a fixture of Apple's site, but its move onto social networking is a pretty recent development, having begun only last Friday. It's Apple's humble attempt to keep you abreast of the latest and greatest in the world of movie trailers, delivered to you in convenient 140-character, bite-size chunks.
Given that it's Apple we're talking about, the follower count seems rather low at just a shade over a thousand people, but I'm sure you can do something about that if you really like them trailers. More to the point, though, it's interesting seeing Apple actually engaging in social networking of any kind.