Workday customers will soon be able to tap the SaaS (software as a service) vendor's human resources and financial applications from their iPhone.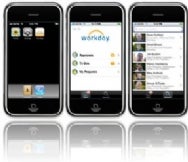 In a demonstration, Workday officials showed how a manager could approve a worker's expense report or OK a new hire, and other capabilities.
Users can also tap their Workday "to-do" items from the phone, use a search tool to dig through employee contact information and check the status of requests they may have made through Workday, such as a request for time off.
All 125 of the processes available in Workday's business process framework can be tapped to some degree from the iPhone, and the company plans to enrich the capabilities more broadly over time, according to CTO Stan Swete.
The application preserves internal controls users may have implemented in Workday, such as the need for a higher-level manager to approve expense reports greater than $1,000. In addition, processes with multiple steps, such as a hiring, get passed along "downstream" to the next relevant employee after an approval is made.
There are some limitations to the iPhone application. For example, right now only summary information is available for expense reports; to see individual line items, a manager would have to use a regular Web browser interface, Workday said.
The application should be available soon as a free download from Apple's App Store. BlackBerry support is planned for later this year, although no firm date has been set.
Workday is also undecided about whether to add offline support.
Managers on the go will welcome the iPhone app, said Forrester Research analyst Ray Wang. "People in transit need every minute of every day. You want to be able to pound those [approvals] away as quick as you can," he said.
Mobile extensions for ERP (enterprise resource planning) are becoming crucial, Wang said, a trend underscored last week by SAP's announcement it would partner with Sybase to bring SAP's Business Suite to a range of mobile devices.
ERP applications that don't address mobile are "so last century," Wang said.