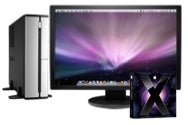 Say what you will about Psystar, the Florida-based company that's been churning out unauthorized Mac clones like Hollywood churns out crappy movies based on video games, but these guys have chutzpah. Even in the midst of a lengthy legal disagreement with Apple, Psystar still manages to find the time and the guts to release new models of its Open Computer line.
The new model, dubbed the Open(3), is a compact desktop computer sporting a 2.8GHz Core 2 Duo processor, 2GB of DDR2 RAM, a 500GB SATA hard drive, and an Nvidia GeForce 8400GS video card with 256MB of memory. It also includes a dual-layer SATA DVD burner, four USB ports, Gigabit Ethernet, and a whole bunch of ports you'll never see on any Mac: PS/2 keyboard and mouse ports, an LPT printer connector, and an RS-232 Serial Port that Psystar has apparently forgotten to return to the 1980s Packard Bell from which it was pilfered.
At $599, the Open(3) might sound like a pretty good deal, but that's before you look at the list of configuration options: Turns out if you want FireWire, Wi-Fi, or Bluetooth in this sucker, it'll cost you extra. For each. Plus there's no monitor, keyboard, or mouse included. Basically, it's a more expandable Mac mini with fewer built-in niceties. Oh, yeah, and it's an unauthorized hack—but you already knew that.
Either way, it appears that Psystar's going to milking this cloning gig unless the law tells it in no uncertain terms to cease and desist forthwith.
[via Pocket-lint]