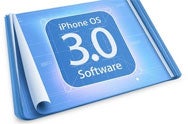 As has been customary for Apple since the Macworld Expo 2008 Keynote Address, the company has now made the entire iPhone OS 3.0 presentation available for direct download on the iTunes Store, as another episode of its Apple Keynotes podcast (Apple posted a streaming version yesterday).
Although some of those app demos may have seemed boring, when they were going on (and on), while we were following the live-blogging, they are actually pretty darned cool when you see them in action (the blood sample demo might not be for the squeamish, though).
As far as Apple keynotes go, this is definitely one of the more interesting ones. Grab it while it…well, it isn't going anywhere, so do it whenever you feel like it.