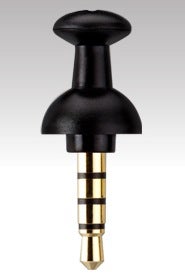 Accessory maker Switcheasy, which until now focused on cases and other protective accessories for iPods and iPhones, has announced ThumbTacks, a tiny, thumbtack-sized (and -shaped) microphone for the fourth-generation iPod nano and second-generation iPod touch.
The microphone plugs directly into the headphone jack of compatible iPods, letting you record audio using either the iPod's built-in voice-recording feature or, in the case of the iPod touch, third-party software. The microphone is just 1.2 inches long (including the miniplug) and less than a half-inch in diameter; once connected to an iPod, the microphone protrudes only half an inch or so from the iPod's headphone jack.
The $13 Thumbtacks microphone is available now in black, white, or red.