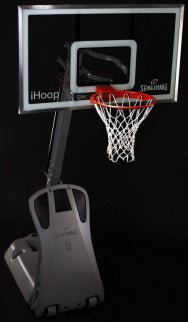 Sports-equipment vendor Spalding has combined an iPod speaker system with a basketball hoop, calling the resulting amalgamation iHoop. The portable, outdoor basketball hoop uses features from Spalding's higher-end hoops, including a 54-inch, tempered-glass backboard in a steel frame, a turn-handle height-adjustment system (for rim heights of 7 to 10 feet), and the company's Arena Slam rim. The base of the hoop includes two (left and right) 3-inch speakers and a 5-inch "subwoofer," all protected behind ABS grilles.
You place your iPod inside a shock-absorbing, mesh-and-elastic iPod Suspension Cradle located between the iHoop's speakers. An ABS compartment door provides additional protection for the iPod. Buttons on the outside of the base—for play/pause, back, forward, volume up and volume down—let you control playback. You can also connect other portable players using a standard 3.5mm miniplug cable, although you won't be able to use the iHoop's controls with such connections.
The company claims the iHoop uses "Marine Grade outdoor audio components" that protect the system against both water and sun damage (although it isn't clear if that protection extends to an iPod inside the cradle compartment).
Pricing and availability information are not yet available.
[via Gizmodo]