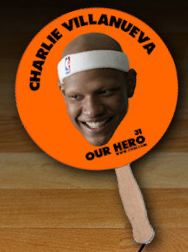 I love Twitter, as my 7,121 updates will attest. But let's get this straight: while it might be okay to tweet about waffles and Watchmen, there are times when you might want to think twice.
Just this week I've noticed three examples of tweeting in questionable contexts, which suggest both that Twitter is growing by leaps and bounds and that etiquette hasn't caught up with technology yet.
Milwaukee Bucks forward Charlie Villanueva got in trouble after he tweeted a self-motivating message at halftime of a game with the Boston Celtics. (To be fair, he did play really well in the second half and the Bucks won, so maybe it did motivate him.)
Then there's the Twitter Juror (not related to The Rural Juror ), Johnathan Powell, who tweeted about the verdict in the case he was serving on. I'd argue that since he didn't say anything until the verdict was read, Powell's being attacked a bit unfairly, but it's still fascinating to see that Tweeting about a verdict has become a possible case of jury misconduct.
Finally, there's the Cisco Fatty. In this story, a woman who applied for a job at Cisco tweeted about how unsure she was about taking the job: "Cisco just offered me a job! Now I have to weigh the utility of a fatty paycheck against the daily commute to San Jose and hating the work." You can guess the next part of the story—the tweet was spotted (and replied to) by someone who works closely with Cisco. The tweeter responded by taking her account private, but the tweet had already been indexed by Twitter's search engine.
Let this be a lesson to you, Twitter friends: Look before you tweet. And that's one to grow on.