Plenty of image editors vie for your attention at the App Store. Rather than try to compete by offering to do everything, FocalLab concentrates on selective focus, adding a graduated blur to in-focus areas. With four types of filters as of this writing, the app from Nexvio handles this specialized editing well.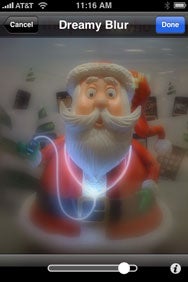 As with many image-editing apps, launching FocalLab gives you the option of selecting a photo from your photo library or, if you're using the app from an iPhone, taking a new one from within the app. Once you've selected an image, you can choose one of the edit types: Soft Focus, Zoom Blur, Motion Blur, and Dreamy Blur. (There's also an option to convert any image to black and white.) Each one of these edits can add an extra degree of fun or sense of drama to a regular photo.
The controls of the app are very simple and well designed: you can select which area of the image to focus on by dragging your fingers over that part of the photo. Each function has a simple slider that lets you adjust the amount of Zoom or Blur you would like to add. You can also choose the Revert to Original option at any time, if you feel like starting over. Once you're happy with the result, you can save the image directly to your camera roll.
Overall, FocalLab does a good job at what it sets out to do, particularly if you're looking to add effects like soft blurs, zooming effects, or motion blurs to add a sense of action to your photos. Users looking for other effects, though, might find the concentration on selected focus a little limiting.
FocalLab is compatible with any iPhone or iPod touch running the iPhone 2.1 software update.
[ Beau Colburn lives in Boston, where he loves to edit photos.]