The blogging platform Tumblr is growing in popularity, thanks to the ease with which you can post text, photos, links, and videos via the microblogging service. Naturally, Tumblr users want to update on the go, which is exactly what the great Tumblrette app by Mobelux offered. In fact, Tumblrette proved so effective, the Tumblr team bought the app, made a few more changes, dropped the price to free, and redubbed it Tumblr.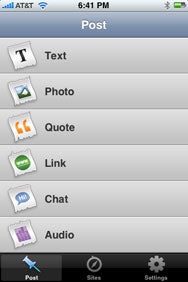 Tumblr's popularity is built on the ease with which people can post text, photos, links, sound clips and more. The iPhone app gives you access to all of these posting options except video (most likely because the iPhone doesn't capture video). One great extra feature in the Tumblr app is the ability to record audio clips on the phone and post them directly to your tumblelog.
One of Tumblr's core features is the Dashboard; you can access it through the iPhone app, where you can view updates from other Tumblr sites you follow as well as "re-blog" individual posts. The addition of the iPhone Dashboard, an iPhone optimized version, was a tremendous boost to the rebranded app.
If you're a Tumblr user like I am, this app is essential. Not only does it make it very simple to post on the run, but now catching up on your Dashboard updates is just easy.
Tumblr is compatible with any iPhone or iPod touch running the iPhone 2.2.1 software update.
[Beau Colburn lives in Boston and posts to Tumblr at his blog.]