Apple's popular AirPods are most effective when used in conjunction with the company's other products: their feature set is at its best when working with an iPhone, iPad or Mac. But they can serve as very fine wireless headphones with plenty of other devices, including the Nintendo Switch gaming console.
In this article, we explain how to pair a set of Apple AirPods with a Nintendo Switch. It used to be tricky and require an adapter, but following a software update a couple of years back the process is now nice and simple.
We also discuss how to use AirPods with PlayStation and Xbox separately.
How to update your Switch (if necessary)
The key here is that you need your Switch to be running system firmware version 13.0.0 or later. That was the software update, released back in fall 2021, which added support for Bluetooth audio accessories.
Let's check if you've got the right software version.
Turn on your Switch.
From the home screen, go to System Settings (it's the cog icon; you'll have to press it twice if you're using the touchscreen).
Scroll down to System.
Check the entry for System Update to see which version you've got.
In the screenshot below you can see that our Switch has version 16.0.3 and is therefore comfortably able to use this feature.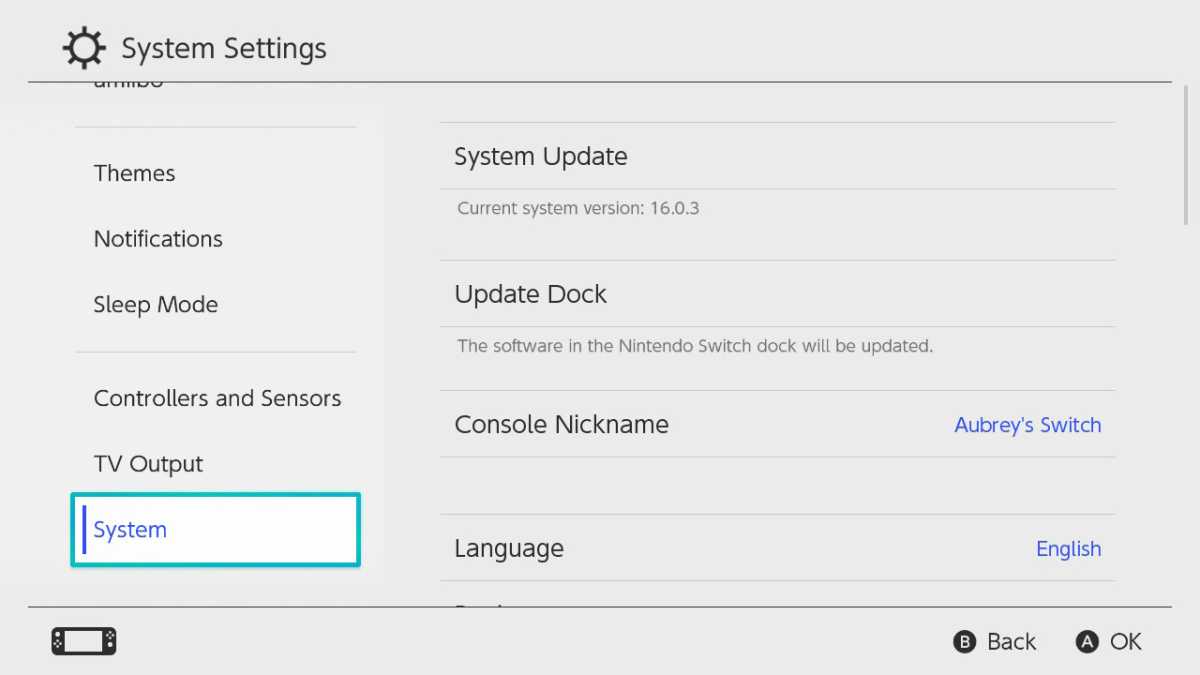 Foundry
If you've got an earlier version than 13.0.0, an update will be waiting for you and you'll need to follow the instruction to install it.
How to pair the Switch with your AirPods
Now go back to the main System Settings screen as before, and this time go to the Bluetooth Audio section. (It's the fourth entry down on our test device, but it won't be visible on a Switch running software earlier than 13.0.0.) From here, we're going to select Add Device–but first we need to make sure the AirPods are ready to be found.
With the AirPods in their case, open the lid, and then press and hold the button on the back until they make a little ping and the light on the front starts flashing white. (You'll see a steady white light almost at once, but you need to carry on holding down the button until it starts flashing white.) The AirPods are now in pairing mode, so you can tap Add Device on the Switch.
So to recap that's:
On the Switch go to System Settings.
Bluetooth Audio.
Place AirPods in their case with the lid open, press and hold the button until you hear them ping and eventually flash white.
Tap Add Device on the Switch.
Foundry
The Switch will search for available Bluetooth audio accessories within range. When it finds your AirPods, the Switch will display their name to check it's got the right device. Assuming everything is correct, tap on the AirPods to complete the pairing process.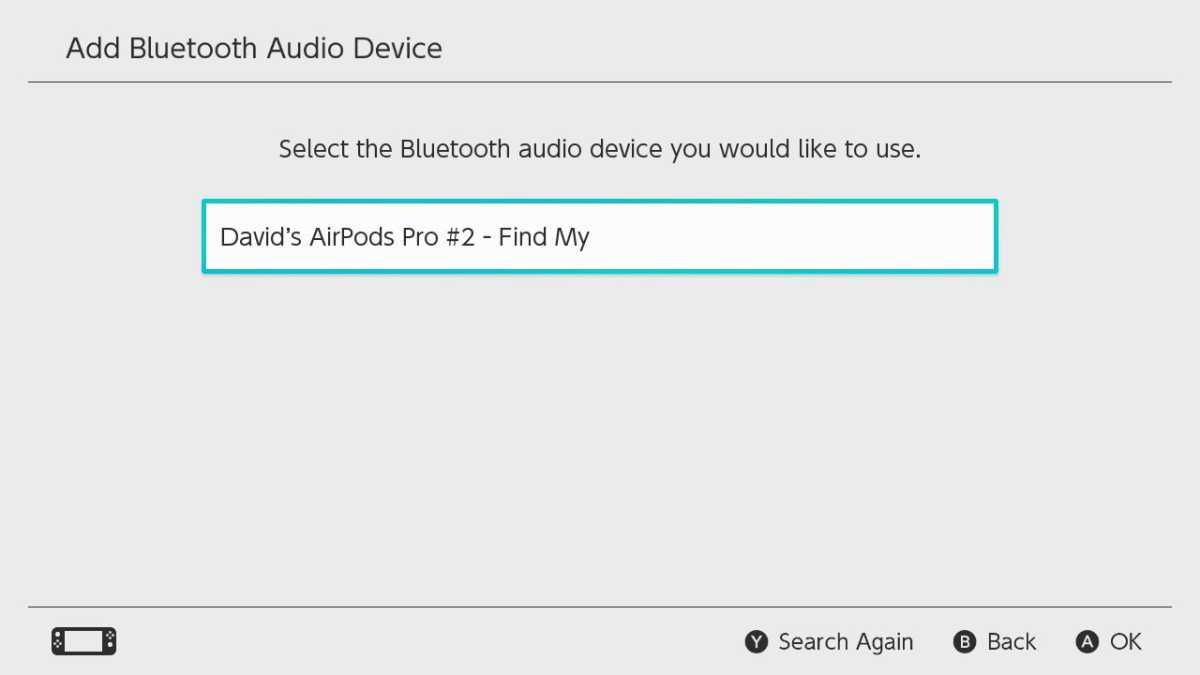 Foundry
And it's as simple as that. You can now pop the AirPods in your ears and enjoy high-quality audio while gaming.
Apple AirPods (3rd gen, 2021, MagSafe)
Price When Reviewed:
$179
How to unpair the AirPods
If you later need to remove the AirPods, go back to the Bluetooth Audio section of System Settings, select the headphones, and tap Remove Device.
Foundry
Nintendo Switch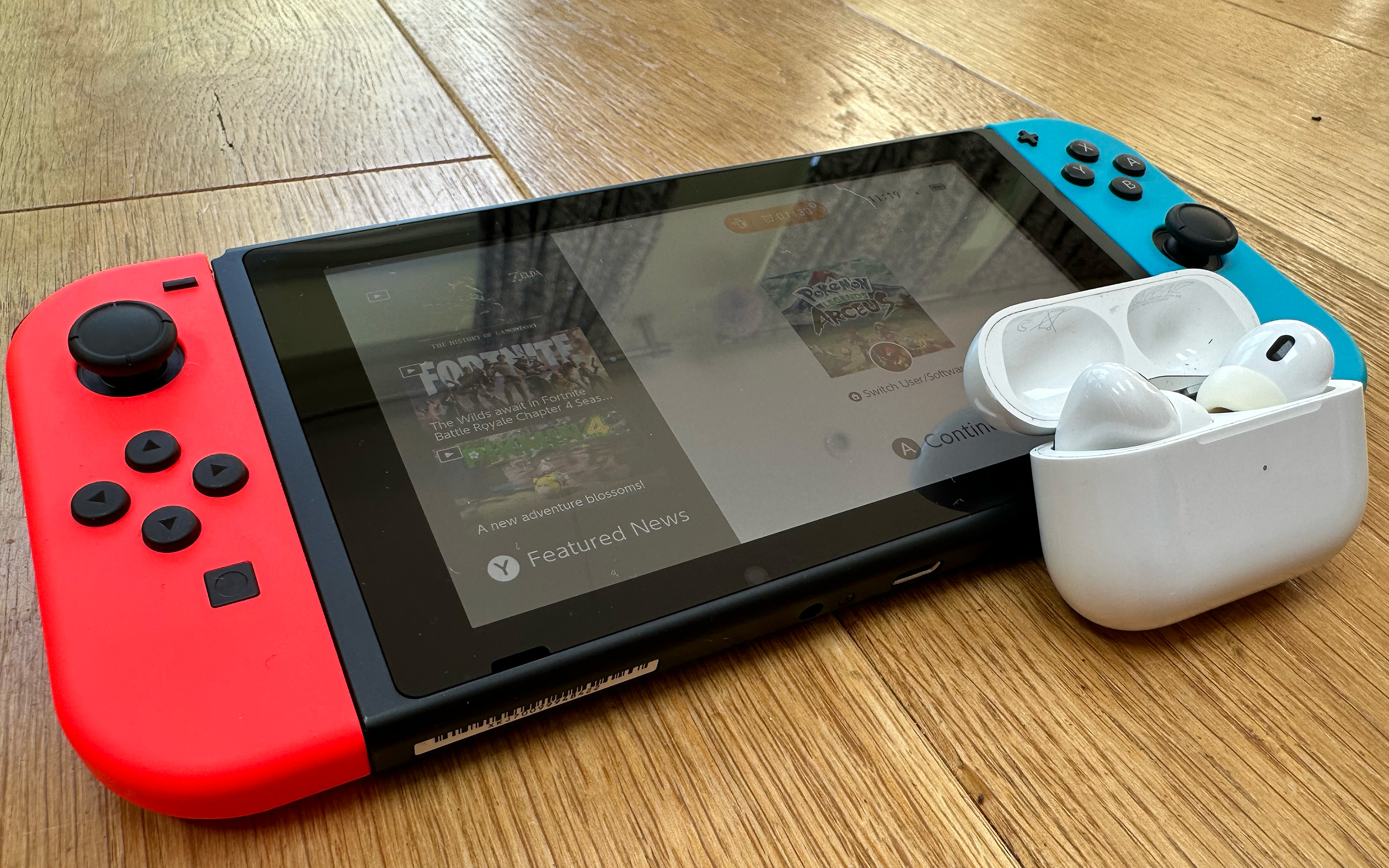 Price When Reviewed:
$279.99
Also read: Best Mac for Gaming and Best iPhone for Gaming.
We also cover How to connect AirPods to a MacBook and how to connect AirPods to an Apple TV.