Writing your congressman is one of those age-old civic rites of passage that every grade school social studies student dutifully carries out and takes for granted. Not that those elected representatives have the time to read their own mail, of course. But that's democracy for you.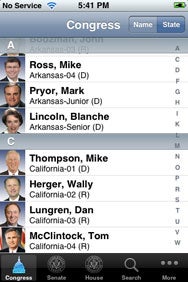 The reality, of course, is that three-quarters of Americans don't know who their elected representatives are. And the truth is, the real power in Washington isn't the elected officials, but their staffs—the armies of schedulers, chiefs of staff, policy analysts, press flacks, and interns who read the mail and keep the legislative sausage factory running more or less.
Who are those people? What are their names? How do you reach them? What is Congress doing? Is it even possible to cut through the fog of the legislative process? What exactly are your representative and senators voting on today, tomorrow, and next week?
Congress+ by Cohen Research Group is an app for the iPhone and iPod Touch built to answer those questions. The app features an extensive database packed with information on congressional leaders, their staffers, committee activities and the minutiae of the legislative process. If you are an activist or just and interested citizen, Congress+ is indispensable.
There are three versions of Congress. The $100 CongressPro is a fully featured app geared to lobbyists and K Street denizens, special-interest glad-handers, Capitol Hill jobholders, sundry bureaucrats, and… well, hacks like me. Similar resources, notably Leadership Directories' Congressional Yellow Book, cost hundreds of dollars more.
The primary difference between CongressPro and the much more affordable Congress+ is the frequency with which the apps are updated. Pro is updated constantly. Plus is updated yearly, although early adopters have benefited from more frequent updates as the developer has refined the app. The latest version, which appeared Monday, March 9, includes a complete database update.
Congress+ closest competitor might be Komitt Technologies' iCongress, which lets users contact their elected representatives by phone and e-mail. The main difference between iCongress and Congress+ is the source of the data. Cohen Research built its extensive database from scratch. Although iCongress contains some useful information, the app simply isn't as comprehensive as Congress+.
A $1 version of the app, simply called Congress, lacks the information about congressional staffers, subcommittee membership and legislative tracking. You also won't get the book-marking feature of Plus and Pro.
As much as I like Congress+, I do have a couple of quibbles. In addition to browsing members by chamber, name, and state, I would also like to browse and search by political party more easily. Currently, you can sort by party by typing in "(D)" or "(R)"—not the most intuitive search terms, but they work.
I also wish the search engine were a bit more powerful. Currently, all you can effectively do is search for members by name or state delegation. Although it isn't obvious, you can also see which senators are junior or senior by entering "junior" or "senior" into the search.
But it would be much more helpful to also search by policy issue or committee membership, for example. So if you were to enter "agriculture" or "banking," you would see all members of the House and Senate who serve on those respective committees and related legislation, for example. The developer says a more sophisticated search tool is in the works, which no doubt means another database update as well.
One last point about Congress+. The app relies upon—and benefits greatly from—user feedback. Each page has a button at the bottom that lets you submit corrections. Michael Cohen, the market researcher and political science Ph.D. who conceived the app, is very keen on customer service. When I sent an e-mail through the Congress In Your Pocket Web site with a few questions about the app, Cohen got back to me within half an hour. He says his rule is to respond to every e-mail.
Now that's constituent service.
Congress+ is compatible with any iPhone or iPod Touch running the iPhone 2.2 software update.
[Ben Boychuk is a freelance writer and syndicated political columnist in Rialto, Calif. Feel free to e-mail him.]