Elgato on Thursday announced the Turbo.264 HD, a device that enables your Mac to process HD video conversion faster. It costs $150.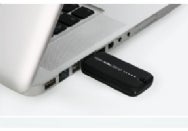 Like the original Turbo.264, Turbo264.HD is shaped like a USB thumbstick, and plugs into an available USB 2.0 port on the Mac. With it in place, H.264 video conversions can be accelerated. The device includes application software and a QuickTime component that helps to accelerate H.264 video exports produced by other applications. H.264, or Advanced Video Codec (AVC) is a broadly supported video standard that can be played back on the iPod, iPhone, modern game consoles, some smartphones, the Apple TV and other devices.
If you drag and drop a video file into the application, you can convert it to H.264 in standard or HD resolutions. The device and software work with AVCHD video, QuickTime, AVI, DV, WMV, MPEG-1, MPEG-2 Program/Transport Stream, MPEG-4, MP4, M4V, H.263, H.264 AVC, Xvid, VIDEO_TS and other video codecs.
The QuickTime Component bridges a connection between other video conversion apps and the H.264 HD; iMovie, for example, can export faster, as well as Elgato's DVR software, EyeTV.
The software lets you preview, trim and batch-process videos, and includes nine presets including "iPod small" and "HD 1080p."
System requirements call for Mac OS X 10.5.6 or later, Intel Core processor, 512MB RAM, built-in USB 2.0 port and QuickTime 7.6 or later.