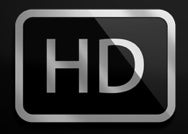 In one of those stealth announcements that we're sure will have critics up in arms about its lackluster nature, Apple's now allowing customers to buy and rent HD movies from the iTunes Store on their computers. If you thought that was already the case, I won't blame you for the confusion—the progression of HD content on the store has been a long and winding road.
High-definition content was first announced at Macworld Expo 2008, in concert with the Apple TV Take Two update and the introduction of movie rentals. But Old Scratch was in the details: only rentals were in high-definition and only Apple TV owners could rent those HD titles. You couldn't just buy or rent an HD movie from iTunes on your Mac or PC. The HD line-up expanded last September when Apple added HD television episodes to the store along with iTunes 8, but it shifted the imbalance once again since you couldn't buy HD TV shows directly from the Apple TV (that feature was added in October 2008 with the Apple TV 2.2 update).
The only thing more headscratch-inducing than the haphazard rollout of HD content to all of Apple's various devices is the pricing structure for video from the iTunes Store. An example: without looking it up, how much does it cost to rent a movie from iTunes?
A) $3
B) $4
C) $5
D) It depends.
E) Nobody said there was going to be a test. I didn't study, and my dog ate my homework, and my iPhone calendar hasn't been syncing properly…
The correct answer, of course, is D) It depends. In fact, renting a movie can run anywhere from $3 to $5, based on just what kind of movie it is. There are two key factors: the age of the title and the quality of the title (and I'm not referring to how many thumbs up it got—sadly, crappy movies cost just as much as good ones).
For example, new releases cost $4 to rent while "library" titles (marketing speak for "old releases") go for $3. However, if you want HD quality, you'll have to pony up an extra dollar, raising new releases to $5 and library titles to $4. HD television episodes cost a dollar more than their standard definition counterpart, $3 instead of $2, but you still can't rent TV shows from the iTunes Store period.
Things get murkier still when we throw movie purchases into the mix. New releases are available for $15, while library titles cost $10. With today's announcement, Apple adds a new tier: HD titles will cost $20. We don't know yet if that price will differ for library titles, since the only HD titles available for purchase right now are new releases. The astute will notice that this means that, for the moment anyway, iTunes's HD catalog isn't the same on your Apple TV and your Mac (probably because it required the negotiation of different rights from the movie studios).
Confused yet? Yeah, us too. To simplify matters somewhat, we're presenting this handy table of what you'll pay for iTunes video in all of its various incarnations. We're not saying you should print it out, clip it, and slip it into your wallet for quick reference, but hey, we're not going to stop you either.
iTunes Video Prices
| | Rental | Purchase |
| --- | --- | --- |
| Library SD | $3 | $10 |
| Library HD | $4 | N/A* |
| New SD | $4 | $15 |
| New HD | $5 | $20 |
| TV SD | N/A | $2 |
| TV HD | N/A | $3 |
*Apple has made no announcement about HD library titles.
It's enough to make you long for the good old days when all iTunes sold was songs, for a dollar apiece. Those days are on the verge of ending too, of course, as the tiered pricing that Apple yielded to the record companies in exchange for a wholly DRM-free catalog begins next month. At that point, songs will be available for either seventy cents, a dollar, or $1.30. So much for one price to rule them all.