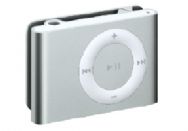 Prosecutors have just brought federal charges of fraud and money laundering against Nicholas Arthur Woodhams of Kalamazoo, Mich. You may remember Woodhams as the man who scammed Apple out of numerous iPod shuffles, a plot that got him sued by the company in June 2008.
Here's how the scheme worked: Between March 2006 and October 2007, Woodhams guessed valid, serial numbers of iPod shuffles that were under warranty and have Apple send him replacement products. Then those would be sold for $49 each—that's $30 less than the then-price of $79.
However, because Apple's return policy requires that defective units be returned within a certain period, Woodhams came up with a scheme to use prepaid VISA gift cards and a UPS store mailbox to get around that pesky detail. That way, instead of having Apple charge him for the replacement iPods, these VISA cards would reject that charge. Apparently Woodhams got away with acquring over 9,000 iPods using this method.
It's a clever enough ploy—if only he'd used his powers for good. Maybe Apple should hire him and help show him the error of his ways.