Nova media on Friday introduced a major upgrade to the GlobeSurfer III, a router connects to the Internet using a 3G wireless data connection. It costs €252 (US$345). The upgrade is free for existing users.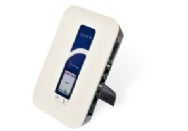 The GlobeSurfer enables a group of computers to access the Internet using a 3G data connection, almost anywhere in the world where there is 3G access — no wired broadband access is necessary, just a SIM card and a valid data plan from a cell service provider. It provides 802.11g-based Wi-Fi connectivity and sports its own Gigabit Ethernet connection for local networking.
The GlobeSurfer III has been updated to support failover conditions — if your regular broadband network connection fails, the GlobeSurfer III automatically switches to a 3G connection and back again when the original connection is available. This way, the GlobeSurfer III can be used to provide reliable backup Internet access automatically, without needing to reconfigure the network in the event it needs to be used.
The GlobeSurfer III works at up to 7.2 Mb/s with upload speeds at up to 4.7 Mb/s. A built-in USB 2.0 port enables you to connect an external hard drive or printer which can then be accessed by all the computers on the local network. You can also connect a regular telephone to the device and send and receive calls on the mobile network. It also supports an external antenna, to boost signal strength.
Current GlobeSurfer III owners who want to upgrade firmware with the new failover capability can download the update from Nova media's Web site.
System requirements call for Mac OS X 10.3.9 or later.