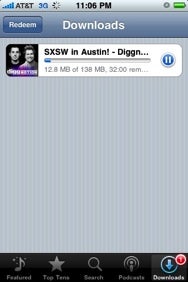 Ever since the release of iPhone OS 2.2, iPhone owners have been able to launch the iTunes app and download both audio and video podcasts over the air. The feature does, however, have a somewhat arbitrary and annoying restriction: it doesn't allow you to download any episode that was over 10MB in size (which includes the majority of them) over the cellular network (though, in a bizarre distinction, you can stream podcasts of that size). A similar restriction has also existed for App Store apps ever since its introduction.
With the advent of iPhone OS 3.0, Apple may finally be set to remove this limitation, at least for podcast downloads. This screenshot by MacRumors Forum member 'getinline1' shows the phone downloading a 138MB podcast episode on his iPhone running the beta version of the latest iPhone OS. Unfortunately, the 10MB limit still seems to be in place for the App Store, although that might change by the time the final version lands this summer. Then again, so might the lifting of the podcast cap.
[via Gizmodo]
Note: When you purchase something after clicking links in our articles, we may earn a small commission. Read our affiliate link policy for more details.