College Basketball Live by Plusmo is a helpful app for a college basketball junkie. It does a nice job of giving you all the basics you would expect from an app dedicated to college basketball: scores, news, standings, and schedules. It also goes beyond that to offer some fun features that set it apart from other sports apps.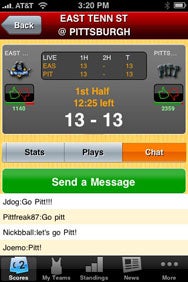 From the main screen of the app, you're able to set up a personalized "My Teams" section, that will allow you to quickly access the latest scores, news, and schedules for your favorite teams. With the huge number of college basketball teams and conferences, this can be helpful shortcut directly to the info you're trying to find.
Plusmo has built in a fun way for you to interact with fans of both teams of the game you're following. When you're watching a live game screen, there are Digg-style thumbs up and thumbs down next to each team's score. As the game goes on you can click these to "cheer" or "boo" for each team, and there is a running total below to track which team's fans are cheering the loudest. You can even log-in and have a live chat with the other fans as the game goes on.
There are areas for improvement though: a bug prevented the scoreboard from loading properly each time I launched the app (but quickly disappeared once a game was selected), and the overly busy interface dragged a bit when switching screens.
This version of College Basketball Live is free, though there are ads on some pages. If you want an ad-free app, you can pay up for the $2 College Basketball Live Plus.
If you can't get enough college hoops, College Basketball Live will provide all the news you need and allow you to take part in the madness at the same time.
College Basketball Live is compatible with any iPhone or iPod touch running the iPhone 2.x software update.
[ Beau Colburn will be rooting hard for the Connecticut Huskies during March Madness.]