At a Glance
Expert's Rating
Pros
Works with iMovie '09
Great manual controls
24p video support
Good audio quality
Good focus assist
Cons
Poor video image quality
USB, mini HDMI, and power ports placed behind the battery
Our Verdict
Panasonic's small and conveniently packed HDC-SD100 HD camcorder uses a three-chip image sensor, a rarity in the consumer camcorder market. But the HDC-SD100 uses that three-chip sensor to make up for each individual sensor's anemic 1/6-inch size. (By comparison, that's about half the size of the sensor in Sony's HDR-CX12 [ ].) There are many great features on the HDC-SD100, but image quality isn't one of them.
The HDC-SD100 is very comfortable to hold and shoot. Panasonic uses a lens ring that gives the HDC-SD100 great manual controls, and the ring is even more intuitive than the HDR-CX12's manual dial. You can use it to control the focus, iris, shutter speed, and white balance. The manual tools provide an easy way to deal with challenging shooting environments when the stock camera responses just aren't enough. It's much more effective than jumping through menus.
The focus assist that pops up when you are focusing (giving you a zoomed-in sample of the image to focus on) is a great and well-implemented tool. I did find it curious that, in adjusting the white balance settings, you have access to preset values only; you cannot, for instance, smoothly change the color temperature by 100-degree increments. Outdoor is typically 5,600 Kelvin and Indoor is typically 3,200; but there are many potential variations in between, and it would be nice to be able to set the camcorder to those intermediate settings.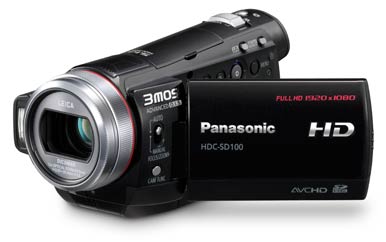 The HDC-SD100 has a viewfinder; cute, but most people won't use it and many people will accidentally hit the EVF/LCD switch on the top of the camcorder and then be confused as to why the video isn't showing up on the LCD (when you change from LCD to EVF [electronic viewfinder], the LCD turns off). This is usually a power-saving feature, but looking through a viewfinder on a small camcorder hurts the video (because of added hand movement) more than it helps.
The component out port, AV/headphone jack, and SD card access are conveniently placed and protected on the side of the camera (though I have some concerns about the longevity of the SD card release; it feels a little cheap, like it would just stop working over time). However, the power, mini-HDMI, and USB connectors are behind the battery. That's behind the battery. (Sorry, I just needed to make sure I was clear because I'm sure you didn't believe me the first time.) You have to plug the camcorder into an external power outlet to pull data off the card (without a card reader) or to use the HDMI connection. You also can't use the battery as a backup in case the power goes out—and camera batteries have saved my tuchus in such a scenario quite a few times. When I did transfer video from the HDC-SD100 to a Mac, I had no problems importing the movie files into iMovie '09.
The HDC-SD100 captures 5.1-channel surround sound that works surprising well. In addition to the onboard microphones, the camera provides a 1/8-inch audio input in the front. It's a great implementation; you have the sound-in jack up front, and the headphone jack to the side. With these items plugged in, the cables don't conflict with each other when they are both being used by the more discerning shooter. If you're planning to do anything remotely professional (like podcasting), separate audio-in is key.
Video quality
Panasonic will extol the virtues of three-chip imaging sensors and tell you how great they are in low light and detail. Unfortunately, none of this is evident in the HDC-SD100. To be blunt, the image quality was just OK in good light (3,000 lux) and a mess in low light (300 lux). The loss in detail in low light situations was dramatic, and 300 lux isn't even what some would call true low light. The lesson here is that a 1/6-inch sensor is not enough for a camcorder at this price point. It's not about the color or even the graininess (I would expect some degradation in low light here), but the image just gets much, much softer in resolution tests. This kind of problem is normal for small cameras like the Flip MinoHD ( ), but at the price point Panasonic is selling into, this is unacceptable.
As something of a consolation prize, the HDC-SD100 does shoot at 24p (progressive scan video at 24 frames per second), which is a great feature and something every camcorder should have when consumers are shooting for output to a computer or LCD. The camcorder saves the video at 17 megabits per second; normally, I like to see a little higher rate (like Canon's 24 Mbps) but I don't think the higher bit rate would capture any more data through the sensors that are provided.
The still photo quality is OK, capturing shots at 1,920 by 1,080 pixels. But the small sensor size also adversely affects photos. In both video and stills, size does matter.
The HDC-SD100 features facial recognition and optical image stabilization, which both work well. One of the unique features of the HDC-SD100 (which I'd love to see in other camcorders) is the integrated menu explanation system. As you are going through the menus on the HDC-SD100, short SMS-length descriptions of each feature pop up. These work remarkably well and speed up the acclimation process a great deal. In conjunction with the surprisingly well-engineered joystick, the camcorder settings are some of the easiest to navigate of any camcorder that I've tested.
Specifications
| | |
| --- | --- |
| LCD Size | 2.7 inches |
| Optical Zoom | 12x |
| Still image resolution | 2.1 Megapixel |
| Size (WxHxD) | 2.5 x 2.8 x 5.4 inches |
| Weight (ounces) | 11 |
| Video Codec | AVCHD |
Macworld's buying advice
The Panasonic HDC-SD100 provides a great set of well-implemented tools that are in the right place at the right price. Unfortunately, poor connection placement and poor imaging make it a camera with room for improvement.
[Alex Lindsay is the founder of Pixel Corps, a training and production guild specializing in digital media. Alex has been involved in computer graphics work for nearly 20 years.]
Note: When you purchase something after clicking links in our articles, we may earn a small commission. Read our affiliate link policy for more details.