I have seen the future, and, man, is it jumpy.
I reached that verdict after spending parts of the last two days watching basketball on my iPhone with the help of the CBS Sports March Madness on Demand app from the App Store. Developed by CBS Interactive and MobiTV, the $5 app streams live video feeds of every NCAA men's basketball tournament game to your phone via Wi-Fi. (No Wi-Fi available? Then you can still pick up the audio from games over a 3G or EDGE connection.)
It doesn't make much sense for us to review the app—to properly test it, we had to wait until the basketball tournament was underway. And even though there are five full rounds of basketball still to play, like the replicants in Blade Runner, March Madness on Demand comes with its own incept date—after the championship game on April 6, this app ceases to have any practical use. So if you didn't plunk down your $5 this week, chances are your window of opportunity has closed. This app is best used for those times you can't be near a TV set, and, for the NCAA tourney, that's usually the just-completed round of action for most people.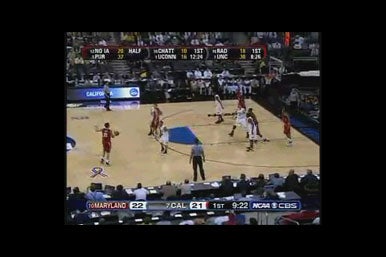 Still, I thought it might be useful to share my experience testing out this app, as it gave me a pretty good insight into how the iPhone could work as a platform for delivering live, streaming content. Also, I got to watch the Cal-Maryland game on the company dime, so I have that going for me.
Read more…
So what's it like watching video of a live event on your iPhone? Pretty cool, actually—and also pretty simple. After you launch March Madness on Demand—and acknowledge its reminder that you can only get video via Wi-Fi—you're presented with a list of games, including the ones that are happening right at that moment. Tap on one, tap again on the Watch Live command, and wait for the video to connect—in a matter of moments, you'll have the live video and audio from CBS's telecast. (Including the commercials. Did you know that you can get a foot-long sub at Subway for $5? Because, believe you me, after the last two days, I sure do.) And when everything's working as it should, it's easy to follow along with the action, even on a 2.5-inch screen. In fact, the video looks even sharper when you use an option in the March Madness app to shrink it down from full-screen view.
Of course, the key phrase in that preceding paragraph was "when everything's working as it should." As you might expect, the quality of the video feed has proven to be as temperamental as a star power forward. Sometimes, the picture blurs or freezes. Sometimes, it falls out of sync with the audio. And sometimes, the app decides you're no longer connected to a Wi-Fi network and drops the video entirely—even if you haven't moved a muscle.
On Friday morning, for example, I had a situation tailor-made for an app that could deliver climactic sports action to an office-bound drone—two tournament games went down to the wire, with a third featuring a surprisingly resilient underdog giving one of the higher seeds a bit of a tough time. If ever there was a time for March Madness to give me my $5's worth, this was it. So I fired up the app, tapped my way to the Oklahoma State-Tennessee game and sat back to watch the Cowboys and Volunteers duke it out for my amusement.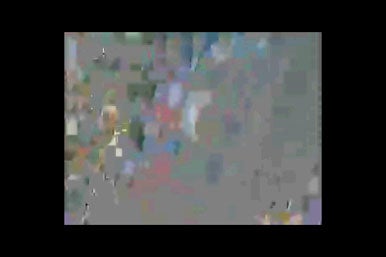 The video, which had been playing reasonably well in earlier tests, suddenly became quite choppy. The audio jumped far ahead of the video—CBS's announcing team enthused about a beautiful shot while the video showed Oklahoma State still bringing the ball up the court. Switching over to the equally tight Marquette-Utah State tilt provided no relief. Here the picture froze into a series of still shots—like artist's renderings of the action—before freezing entirely into an indistinguishable blur while the sound played on.
I don't know why March Madness On Demand picked that particular moment to flake out when it had been performing reasonably well up until that point. Did a bunch of people around the country, lured in by a couple close games, fire up the app at once taxing its resources? Was there a problem with the Wi-Fi network on my end? Was I just unlucky?
I found I got the best results—a decent picture, no choppiness, video and audio remaining largely in sync, no dropped connections—when I kept my iPhone plugged into a USB port on my MacBook Pro. (One of my fellow editors here think this is merely a coincidence—that having the phone plugged in should have no impact on the quality of the streaming video. All I know is I saw what I saw, and the picture was less prone to freezing or disappearing this way.) That also kept my battery from getting drained too quickly—apparently, receiving live video streams isn't exactly conducive to long battery life. But that defeats the entire purpose of the app in two ways. First, the whole point of watching something on a mobile device should be the ability to be… well… mobile. If I have to find an open Wi-Fi connection to get video, and then struggle to stay connected once I do, the effort seems more frustrating than rewarding.
And second, if I'm going to be chained to my desk, why wouldn't I watch the same games through the CBS Sports Web site? The action, provided through Microsoft's Silverlight media player, looks gorgeous on my display and—perhaps more important—is completely free.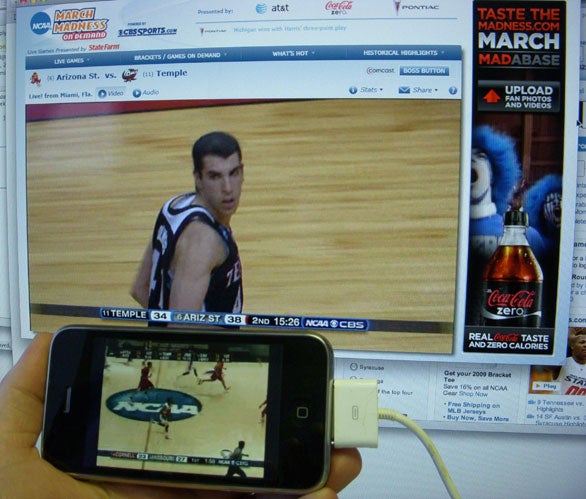 The iPhone has the potential to be a great platform for watching live events—but that potential hasn't been realized, at least not this week. Video quality is too inconsistent, the Wi-Fi-only restrictions for video too burdensome, and the price of this particular app too high for what you get in return. Maybe by next year's tournament, some app developer will work out all the kinks, and I hope they do—there's a few more games I'd like to watch on company time.
[Not that you asked, but Macworld.com executive editor Philip Michaels is unlikely to win the office pool for this year's tournament.]