Most Facebook users are doubtlessly familiar with Mob Wars, a popular game on the social-networking site that puts you in the blood-splattered shoes of a mafioso. Think of iMob Online from The Godfather as the poor man's version of the game for iPhone and iPod touch users. Names have been changed to protect the innocent, but the game play—which requires a wireless connection—is essentially identical.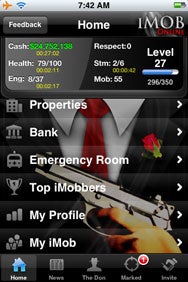 In this large-scale massively multiplayer mob game, you start as a common thug performing missions to level up, gain power, and grow your mob. As you progress, you get access to better missions and weapons. You also pick up cash, which you can invest in properties such as motels and casinos (earning even more cash). You can also pick fights with other mobs.
Note that The Godfather offers several versions of iMob Online, where you can pay anywhere from $1 to $20 to start off with varying levels of Respect Points. For this review, I looked at the free version, which gives you 30 Respect Points with which to start.
Generally, iMob Online's gameplay is fun. By copying the Facebook game's model, iMob Online starts with a great concept. But, ultimately, the poor execution left me frustrated.
Most notably, it's very easy to cheat when playing iMob Online—when the top mobster has won more than 30 million fights according to the game's online scoreboard, you can suspect there's a flaw in the system. Also, players at lower levels have gotten access to weapons that should only be available at higher levels. Other players have amassed trillions of dollars—something that seems like an impossibility.
The developer has acknowledged such problems, with several updates aimed at stamping out cheating. But the updates haven't had the desired effect, with the developer conceding on its blog that there's more work to be done.
iMob Online will be fun to play, if the developer ever figures out a way to snuff out cheating and fix lingering bugs. Until then, best to steer clear from this life of crime.
iMob Online is compatible with any iPhone or iPod touch running the iPhone 2.2 software update.
[Jeffrey Hatton is a freelance writer living in Virginia.]