Martial arts is a big part of my life, and conditioning goes hand in hand with most of what I do during my daily training. Sparring, interval training, circuit training—these and other segmented events require a flexible timer and audible tone to spare me the hassle of keeping an eye on my watch.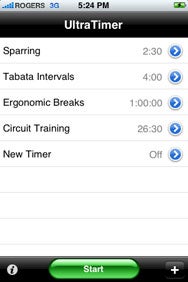 UltraTimer by Plain and Simple Software is an ideal tool if you want to use your iPhone or iPod touch to keep you on track. While I use it specifically for my martial arts and fitness timing, any timing function can be added—from ergonomic reminders to ensure that you stand up and stretch your neck and legs during the day to a timer to ensure that you baste the turkey on Thanksgiving Day to keep it moist.
Setup is simple and easy. You can use one of the supplied timers that are automatically installed. You can also use UltraTimer while listening to music on your mobile device, so your favorite tunes can keep you motivated while you pound the heavy bag, do wind sprints, or boil those Brussels sprouts to go along with your turkey.
UltraTimer is a simple but valuable tool for anyone who requires a flexible, hands-free event timer.
UltraTimer is compatible with any iPhone or iPod touch running the iPhone 2.x software update.
[Kyle Bailey is "Da Big Cheeze" at E-Cubed Media Synthesis, an experience design firm in Vancouver, British Columbia.]