You've already loaded up your iPhone with your favorite songs and photos. Why not carry your favorite comic books with you, too?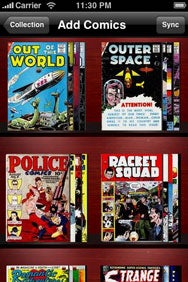 That's just one of the capabilities delivered by ComicZeal, which is both a comic book viewer and a storage application. Developed by bitolithic, ComicZeal displays comics in full-page color. You read the comics by using the iPhone's familiar swipe, pinch, and double tap gestures to navigate each panel and page. Reading comic books on the iPhone does involve a lot of zooming and resizing, but anyone familiar with the iPhone default interface should pick up ComicZeal in no time.
Bitolithic also reminds you that ComicZeal is a comic-book viewer by including samples of vintage Golden Age comics from the 1930s and '40s. If you enjoy reading these comics, you can download additional issues wirelessly via ComicZeal.
The application offers access to the online archives at Golden Age Comics, a free British repository of vintage comics now in the public domain. ComicZeal includes access to 11 different Golden Age titles, many of which contain between five and 10 individual issues. Downloading comics wirelessly is a one-click process, taking about 45 seconds per comic book over a Wi-Fi connection.
While downloading Golden Age comics is sure to appeal to some fans, most comic book fans will want to import their own books into ComicZeal. Bitolithic created a companion Mac and Windows program called ComicZeal Sync for just this reason. ComicZeal Sync converts familiar digital file extensions like .cbr, .cbz, .pdf, and .rar into files which ComicZeal can display on your iPhone.
After you've imported or downloaded your favorite comics into ComicZeal, you navigate your collection by scrolling through virtual comic book boxes on the iPhone's screen. Each title has its own box and clicking on a box brings up a visual list of all comics in that title.
If I begin reading The Amazing Spider-Man #10 but get interrupted by a phone, ComicZeal remembers where I left off with a red bookmark icon. ComicZeal also displays reminders, like "reading page 14 of 22" or "finished reading" beneath each title. This is a handy feature for readers that enjoy reading in short spurts.
Each page fills the entire screen. Navigating from page to page is done with either a swipe of the finger toward the edge of the screen or a tap on the small menu icon at the bottom of the screen. This menu includes a slidebar for navigating through many pages at once, a nice touch for longer comics or graphic novels.
ComicZeal is good at what it does. Comic book fans interested in taking their favorite books with them will enjoy ComicZeal.
ComicZeal is compatible with any iPhone or iPod touch running the iPhone 2.2 software update.
[Brendan Wilhide is a contributor to Macworld.com.]