Being two-faced may not be an admirable quality in a person, but in a location-based social networking app, it can be a beautiful thing. After all, while there are some things you don't mind declaring to the world at large, there are other things you probably want to announce to a select few.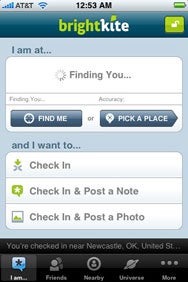 That's why I find Brightkite, an app from the location-based social network service Brightkite.com, so compelling. Brightkite lets you keep up with your friends, showing where they are and what they're doing. You can even use Brightkite to find new friends in your area.
But Brightkite also gives you the ability to select between two privacy modes—a brilliant feature. Post something publicly, and it goes into the timeline—everyone can see it at full accuracy. Out having fun? Let others join in. Post a photo of the pizza you just got and show everyone where to get a great lunch. But if you're at home, publicly posting pictures of your sleeping baby, with precisely where your house is, might be a bad idea. Use Brightkite's private mode to choose who can see your posts.
Brightkite puts that power in your hands. You have friends, trusted friends, and then the rest of the Brightkite community. You choose what groups of people see what posts. Fine-tuning works well too: you can specify exactly who sees what inside the group, if you're particularly zealous about your privacy.
The attention to detail and the amount of effort put into developing this app becomes quite clear when you delve into some of Brightkite's advanced features. Notifications and privacy settings couldn't be easier. Account management is effortless and straightforward. A built-in friend finder and friend management tools make this a well-refined experience.
You can use Brightkite to update your Twitter status, taking advantage of the app's location-based services and image hosting while posting to the microblogging service's much larger user base. Naturally, there other other options out there for this, but few match the fit and finish.
The natural drawback to these social networking programs is the user base. Brightkite won't comment on the exact number of its users, but it's easy to see that the customer base is growing. It would also be better if Brightkite let you switch between miles and kilometers for your location-based posts, though the developer says this will be added in a future update.
Brightkite is compatible with any iPhone or iPod touch running the iPhone 2.1 software update.
[Chester Baker is a technology and radio control car enthusiast from central Oklahoma.]