At one time, the gadgets attached to my belt made me feel like a hi-tech superhero: phone, PDA, iPod, camera, grappling hook, and so forth. Thankfully, the iPhone made it possible to ditch most of these with one, all-powerful device. Well, almost—the camera on the iPhone has proven to be limited, lacking many functions of the simple point-and-shoot digital riding on my belt.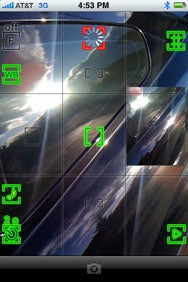 Real Cam SP from Sponticelli.com adds functionality to the iPhone camera, making it more capable for everyday use. Features include grid lines, black-and-white or sepia filters, a timer function, and the ability to alter white balance. You can also view the image you just shot as you are setting up another, without having to go out of the app and into your photo library. You can move around this preview image with a finger swipe; it can also be viewed full-screen with a double tap.
These little improvements may not seem like much, but when added together they become useful in a variety of situations. Too dark? Try adjusting the white balance. Shaky hands from all that coffee this morning? Take a deep breath and try the image stabilizer. Not sure if you got the picture you hoped for? Check the preview and shoot it again.
Like many photo apps, Real Cam performs better after a soft restart of the phone. This can certainly be inconvenient if you're looking to photograph that moose outside your car window. Saving pictures and getting the previews on screen can be slow, which can be frustrating.
There's a free version— Real Cam LE—that saves pictures at 480-by-360. The paid version can save pictures at 1,660-by-1,200.
Real Cam SP isn't going to make you forget your favorite camera on that next trip to Yosemite, but it does make a decent replacement for the built-in camera app on your iPhone.
Real Cam SP is compatible with any iPhone running the iPhone 2.2 software update.
[ Jeff Phillips is an educator, podcaster, father, blogger, husband, photographer and general technology pundit. He has also been known to give the occasional Feng Shui consultation.]