Apple is hosting Your Business on a Mac seminars at locations around the country. The seminars are free.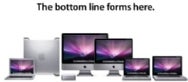 "In less than an hour, we'll show you how easy it is to integrate a Mac into your business. And some surprising ways a Mac can help increase your productivity," writes the company.
Aimed at business owners and entrepreneurs considering a Macintosh, or business users who want to integrate Macs with existing Windows applications and networks, the hour-long seminar shows attendees to how to get started with the Mac, how to connect it to existing workgroups and other office computers, how to share files and use existing printers as a shared resource, and highlights how iWork '09 and iLife '09 can be used in business.
At present, Apple offers the seminars in eleven states around the country: Alabama, Arizona, California, Louisiana, Maryland, Nevada, New York, North Carolina, Ohio, Pennsylvania, and Wisconsin.