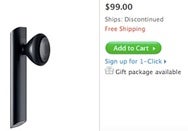 Along with the introduction of the iPhone in January 2007, Apple also announced the iPhone Bluetooth Headset, a small, sleek-looking wireless earpiece that cost $129 and featured automatic paring with the iPhone. It originally shipped with a travel cable and dual dock, both of which allowed it to be simultaneously charged along with your iPhone.
In July last year, Apple stopped bundling the dual dock with the headset and dropped the price to $99, perhaps in an attempt to bolster disappointing sales. It didn't seem to have helped, though, since the product has now been discontinued.
Given the amount of negative criticism it garnered in its short life, that's not exactly surprising. The Apple Store listing for the product has hundreds of average and below-average ratings and our own Dan Frakes said in his review that the headset "doesn't provide the best performance on the market, nor does it offer an extensive set of features." Not to mention there's an extensive market of third-party headsets with better performance, cheaper price tags, more features, or some combination of all three.
As someone who'd considered purchasing the headset when I'd bought my iPhone, I'm a little disappointed by this move and hope that Apple will come up with a replacement for it, unlikely though that may be. Sure, it was utterly lacking in the performance department, but Apple did have the integration angle down pat, what with the automatic iPhone pairing and ability to display the unit's charging status on the iPhone's screen.
Although the headset has been discontinued, it can still be added to your cart and purchased off the Apple Store, so if you want to do so, now is as good a time as any. I'm pretty certain it isn't going to be around much longer.
[via Gizmodo]