When Apple refreshed the iMac line in the middle of 2007, it introduced new aluminum-clad models in the 20-inch and 24-inch sizes. Left in the dust, however, was the low-end 17-inch model, which was discontinued.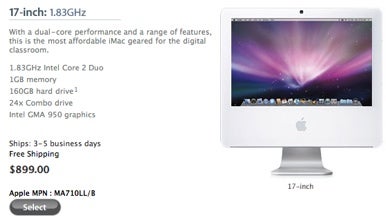 Or was it? Reports over the weekend suggested that the 17-inch model still remains available, for some—specifically, the education market. At first rumored to be a stealth 17-inch version of the current model, Ars Technica discovered that the model is actually just the same white polycarbonate 17-inch model last seen in 2007. We've confirmed that the model is available; it features a 1.83GHz Core 2 Duo, 1GB of RAM, a 160GB hard drive, a 24x Combo drive, and an Intel GMA 950 graphics chipset.
The 17-inch iMac, which runs for $899, is only available for those purchasing for K-12 and higher education institutions—you can't buy it for individual use, and it doesn't show up in Apple's standard online education store. The model is, in fact, tucked away in a somewhat obscure niche of the education store. In order to buy it, you have to log in as an authorized purchasing agent for your institution; if you're not, you have to create a quote that can be submitted to your institution's purchasing department. Apple did not respond to a request for comment about the product.
It seems likely that this model has been kept in place as an inexpensive offering for schools looking to outfit computer labs or classrooms with Macs. Like the low-end white polycarbonate MacBook that's still available, it allows Apple to get a model in under the $1,000 price barrier, making it a more attractive option for those shopping on price.