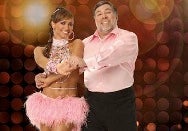 Last week was rife with Woz-related drama, mostly centered around his discontent with the producers of ABC's Dancing with the Stars—which, for those who are just joining us from their remote compounds, currently features the Apple co-founder's fancy-free dance stylings. First, he claimed the producers were "liars" and that the voting is rigged, then he retracted his statements and called himself a "heel" for making such accusations.
Wozniak made the allegations against the producers last Tuesday in an e-mail quoted by CNET: "The producers play games to get viewers and don't disclose the numbers….If tomorrow, they claim I'm in the bottom 2 dance teams, including viewer votes, I believe that it's an outright lie." Because landing in the bottom two couldn't possibly be a result of not being able to dance very well, right, Woz?
The boy-wonder Wozniak seems to think rather highly of his ability to pull in viewers. "I'm sure they want me in this dance-off to get higher Tuesday ratings, and they have preplanned it so that I win," he said in the e-mail. "If my leg acts up tomorrow, they will either have to announce another pair as being the lowest or send me home, and I don't think they will give me up." Perhaps all the recent celebrity attention has indeed inflated the Woz's wig.
But Wozniak flew back down to earth later in the week, retracting his statements and posting an apologetic e-mail in which he admitted that he had "been around the Internet conspiracy theory forums for too long." Thus was restored the humble Woz that we all know and love.
The latest news on Woz is that he has reportedly injured the hamstring muscle in one of his legs, but is still determined to perform on Monday's episode. Let's wish him better luck this time around; hopefully he can at least avoid another Teletubby reference.