Like the batch of Internet radio apps we reviewed last summer, Radio Paradise, Slacker Radio, College Radio Tuner, and Tuner Internet Radio are four applications that, in principle, do exactly the same thing: stream Internet radio to your iPhone or iPod touch. But, while they're designed to perform the same task, each of these apps has a completely different focus.
A general note: All of these applications have no problem streaming audio if you're using Wi-Fi and, I presume, when you're connected to the 3G network—there's no 3G where I live and I have a first-generation phone—but all four programs had performance issues when I roamed around using EDGE. Another downside to all these apps is the fact that they stop streaming audio when you switch to the Home screen.
Read more…
Radio Paradise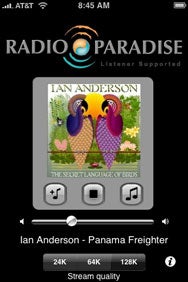 Radio Paradise from Stormy Productions is a slick little app, with one station on its mind: Radio Paradise. As it happens, the very eclectic, DJ-mixed Radio Paradise is the station I listen to about 80 percent of the time. The RP app streams audio at three different bit rates—24k, 64k, and 128k—and automatically chooses the best stream based upon available bandwidth, although it also provides buttons for you to select the bitrate you prefer. The 24k stream worked reasonably well when I was driving, playing music with the quality of a poor AM radio station, but it often choked when switching from one cell tower to another as my location changed; when this happened, the app required a restart to begin streaming again. The program's 128k stream was of excellent quality.
The program's main screen displays the album cover for the currently playing song. Tapping the album cover takes you to Radio Paradise's Music/Artists page, where you can read posts from other listeners about the current track. A feature allowing you to log in and enter your own ratings and comments is in the works.
One of the program's best features is the Tunemark button, which lets you create a bookmark for or e-mail a link to info on the currently playing track; it also takes you directly to the iTunes Store where you can buy the album or song.
Slacker Radio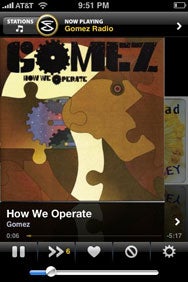 Slacker's Slacker Radio is a very slick, beautifully designed application that gives you access to a nearly unlimited selection of music and comedy. Slacker has excellent audio quality no matter where you're using your iPhone or iPod touch. The Slacker service comes in two flavors, a free, ad-based version with some minor limitations, and a $4-per-month subscription-based service that has no ads and no limitations.
Slacker offers several ways to your listen music. You can choose "stations" based on musical genre, create your own stations based on artists you like, or place "requests" for songs you want to hear, essentially creating a playlist of the songs you like. The app is highly configurable in other ways, too. For example, if you like a station you're listening to but you want it to play fewer hits and more B-sides, you can use Slacker's Fine Tune feature to tweak the station so it plays more fringe cuts than hits.
One thing that I really liked about Slacker was the fact that any time I switched stations it began playing the songs from the beginning rather than in the middle of a track, and I also loved that I could pause a song if I wanted to. I also found Slacker's skip feature useful—the button lets you jump past a song if you don't like it—but I was disappointed to find that I couldn't skip back to an earlier track if I liked the song or had accidentally skipped over a song I wanted to listen to. (You're limited to 6 skips per hour, per station with the free version.)
I only have two complaints about Slacker. First, every station I listened to sounded sterile, to the point that I felt like I was listening to a very random selection of songs that happened to fall into the same category. No segues, no fades, just one cut into the next with very little heart. Second, I couldn't find any way to randomize songs across a variety of genres. When I listen to music, I prefer to hear a wildly divergent mix, say Miles Davis followed by The Cure, Sufjan Stevens, and a little Manu Chau. Unfortunately for me, Slacker Radio wasn't able to pull this off.
College Radio Tuner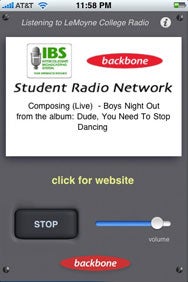 College Radio Tuner from backbone networks is the least polished and the least capable of the four radio apps included here, although it has the potential to be an excellent app. As the name implies, the program only streams college radio stations and the collection of stations it streams is limited to 27, all of which are members of the Backbone Student Radio Network. The streams from these stations are… well… college radio, which means that the quality of the programming can vary from the mundane to the absolutely brilliant. And therein lies the program's real potential. Better stream organization and a guide to what makes each station great would go a long way toward making this a unique application.
Unfortunately, College Radio Tuner also suffers from an abysmal user interface—one that feels like it was thrown together. It won't allow you to listen to one station while you're browsing for another, features volume controls that occasionally work and occasionally don't, and crashes with some regularity As a result, the interface is not too much fun to use. And, because it's limited to only those stations that are part of the Backbone network, College Radio Tuner is missing at least 25 other college stations that are available in other apps like Tuner Internet Radio.
In other words, College Radio Tuner is a great idea that is crippled by a very poor implementation.
Tuner Internet Radio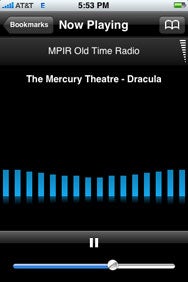 If you've ever used iTunes Radio then you'll be perfectly at home with Tuner Internet Radio, a program from Nullriver that aggregates and streams radio stations from all over the internet, including about 50 college radio stations and all of Radio Paradise's streams.
The program offers a fairly simple interface. Open the app, and you're presented with a list of radio genres. Selecting a genre reveals a sublist of all the stations in that genre. When you select the station you want to play, Tuner Internet Radio loads the stream and then displays info on the station you're listening to, the quality of the stream, current track information, and a visualizer. If you like a station you're listening to all you need to do is tap the bookmark button to save it as a favorite and, if a station you like isn't available, the program provides the option to add your own stations if you know the stream's Web address.
Even though there are literally hundreds of stations available on Tuner Internet Radio, I was more than a little disappointed on two counts. First, stations I expected to find, stations like WABC, a major New York radio station, weren't available. Worse, many of the streams included with Tuner Internet Radio, wouldn't load, even though they were in formats supported by the program. Based on information I gleaned from comments on the App Store, this is a problem that occurred with the app's latest release. Unfortunately, Nullriver's support forums have been in "update" mode for several months.
What to choose? If you're looking for the best radio on the Net, then Radio Paradise is the only radio app you'll ever need, but Slacker Radio offers more versatility and the option to mix your own music, ad-free, for a fee.
Radio Paradise, Slacker Radio, and Tuner Internet Radio are compatible with any iPhone or iPod touch running the iPhone 2.x update. College Radio Tuner runs on the 2.1 update.
[ Jeffery Battersby is a (very) smalltime actor, IT manager, and regular contributor to Macworld.]