The concept behind Snatch is simple— Hoofien's app turns your iPhone or iPod touch into a trackpad and remote keyboard that controls your computer over a network. It's quickly become one of my most used iPhone apps.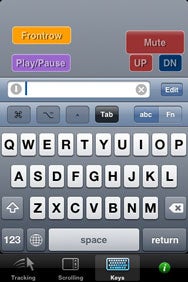 Snatch features a full keyboard interface and custom trackpad function with customizable button, speed, inertia, and friction settings. Snatch also allows custom button creation: create single use buttons or macros, transforming your device into a truly universal Mac/PC remote control. You can create up to four screens of custom buttons with up to 36 keys each.
Setting up the app is simple and straightforward. Just install the free server software— available online for both Mac and PC users—create a password, and connect.
Several advanced features available in the setup screen for the server and the remote app allow fine tuning and customization for just about every aspect, and an online 27-page help document in PDF form is easy to follow.
It would be nice if Snatch provided a way to upload and share custom keypad layouts. I would also appreciate the ability to create those custom layouts on the computer, then load them onto my mobile device, as the keyboard creator on the iPhone or iPod touch can be a little clunky at first. Still, having used this application for some time now, I have had no connection issues or other problems and can strongly recommend it.
Hoofien offers a free version called Snatch Test. It gives you the basic trackpad functionality but not the more advanced features or keyboard emulation.
If you have a computer connected to your TV in the living room or media room, this might be your perfect control solution. It's certainly cheaper than a wireless keyboard and mouse combo.
Snatch is compatible with any iPhone or iPod touch running the iPhone 2.x software update.
[Chester Baker is a technology and radio control car enthusiast from central Oklahoma.]