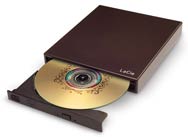 Optical storage consists of a drive that uses a laser to read and write (or burn) data onto optical discs; CDs and DVDs are the most common. A standard CD holds 650MB to 800MB of data, a standard DVD holds up to 4.7GB, and a dual-layer DVD holds up to 8.5GB. Storing stuff on CDs and DVDs is the least-expensive storage solution; discs cost less than $.50 each.
CDs and DVDs are best for storing files you want to hang onto but don't need to access every day.
If you have a Mac with a Combo drive (CD burner that can read but not write to DVD) or a single-layer DVD burner, buying an external optical drive is an affordable and attractive upgrade.
What about Blu-ray?
Blu-ray on the Mac is a whole other issue that deserves its own dedicated discussion. Here, we're covering DVD burners.
DVD burners buying advice
Supported media: Look for drives that offer dual-layer support. You'll notice that there are different optical-disc formats, like CD±R, DVD±R, DVD±R DL; most new optical burners are compatible with all formats.
To see which formats are supported by the optical drive in your Mac, click on the Apple menu and select About This Mac. Click More Info, which opens System Profiler, and in the left Contents column under Hardware, select Disc Burning. The right pane displays all formats your Mac can read and write. Pay attention to the "write" formats, noting the "+" and/or "-" stats, and purchase discs that bear this info.
Write speed: If you don't like waiting, look for a drive with fast write speeds. While the difference between 32X and the fastest, 52X CD-R write speed is about a minute, the speed of larger-capacity DVD±R and DVD±R DL media is more significant. It takes about 15 minutes to burn a full DVD±R with a 4X write-speed drive, about 8 minutes with an 8X writer, and under 3 minutes with the fastest 22X writer. For DVD±R DL discs, most drives offer up to 12X write speeds.
The discs themselves have a speed rating, too. Your optical drive (which has different write/rewrite/read speeds for each media format) and optical discs bear write speeds that impact each other. Buying a DVD-R with a 16X write speed won't offer any benefit if your optical drive has an 8X DVD-R write speed. Likewise, buying a DVD-R disc with a 4X write speed may force a faster optical drive to write at a slower rate, though not always. There's also debate about whether it's better to burn discs at a slower or faster speed to prevent errors; as a general rule, find media that matches or exceeds your drive's write speed and experiment.
Portability: If you need portability, look for a USB or FireWire bus-powered drive, which draws power from your Mac to operate. Also look for a small, rugged case design that can withstand the bumps that come with being stashed in a bag. (Note that portable drives often sacrifice write speed for their willowy figures.)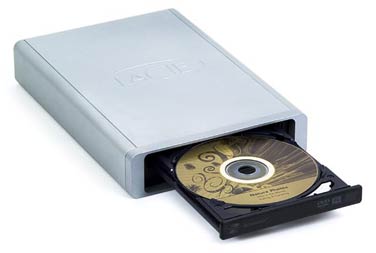 LightScribe: Built into many optical drives, LightScribe is the technology that laser-etches monochromatic graphics and text onto specially coated LightScribe discs. If you want professional-looking discs, look for a LightScribe burner. However, note that the etching is prone to fading, and the time it takes to etch your design can far exceed the disc-write time.(If you don't commit to labeling discs somehow, though, it'll be needle-in-a-haystack time when you need to find files.)
Our favorite optical drives
With 22X DVD, 12X dual-layer DVD, and 48X CD write speeds, the LaCie d2 DVD±RW with LightScribe ( ) is a FireWire 400 writer that also offers LightScribe and Roxio's Toast disc-burning software. Read our full review. [$120 ( Buy the LaCie d2 DVD±RW with LightScribe direct from LaCie); LaCie]
The skinny LaCie Portable DVD±RW with LightScribe, Design by Sam Hecht ( ) is a highly portable USB drive that offers bus power and support for dual-layer DVDs. Read our full review. [$110 ( Buy the LaCie Portable DVD±RW with LightScribe, Design by Sam Hecht direct from LaCie; LaCie]
[Writer, music composer, photographer, and pack rat Kris Fong has archived tens of thousands of files. Now if she could only remember what's stored where…]
[Editor's note: This article originally posted on 4/9/2009. It has been updated to reflect changes in the market.]