MacRabbit, maker of CSSEdit, has announced the release of Espresso 1.0, a new Web development app for Mac OS X. It cost €60 (US$82), and a discount is available for CSSEdit users. A demo is available for download.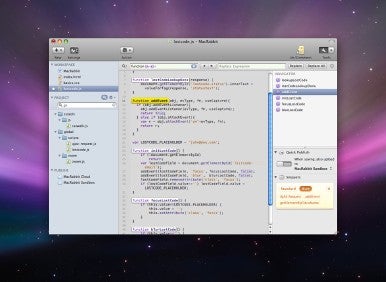 Espresso streamlines the development of Web projects by combining coding, project management, publishing and synchronization features in one application. In its development blog, MacRabbit likens Espresso to "HTMLEdit" to complement CSSEdit.
Features include a Navigator that shows the hierarchical structure in your documents, a "Snippets" tool that keeps frequently used pieces of text easily accessible, code folding that collapses blocks of text to give you a more focused look at code, rule-based syntax engine, on-the-fly spell checking and more.
The software ships with support for HTML, XML, CSS, JavaScript and PHP, and is extensible using "Sugars" (plug-ins) that provide additional language support. It also sports built-in support for SFTP, FTP or S3, along with a Browse mode that enables you to edit files remotely stored on a server.
System requirements call for Mac oS X 10.5 or later. A 15-day demo is available.