Michael Dell gave the strongest hint to-date that his company is developing a mobile Internet device or smartphone at a speech in Tokyo on Tuesday.
"It is true that we are exploring smaller screen devices," he said. "We don't have any announcements to share today but stay tuned as when we have new news we will share that with you."
Dell, who is CEO of the company that bears his name, said he is watching the development of ecosystems that have built up around small mobile devices. Apple has been selling applications to users of its iPhone for some time and in recent months Google joined with its own online space for sales of programs that run its Android smartphone OS. Last month market-leader Nokia jumped on the bandwagon and said it would also launch an application store.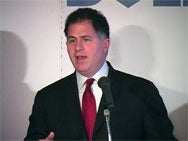 "For the last three years we have integrated 3G radios into our notebooks," said Dell. "We already have agreements with many mobile carriers around netbook devices so it wouldn't be unreasonable to expect that we would have smaller mobile Internet devices or smartphones in the future."
His comments came as rumors swirl about prototypes of a device being shopped around U.S. wireless carriers and manufacturing orders for smartphones placed with a Taiwanese contract manufacturer.
Dell didn't offer any additional information about the company's possible moves in the space and declined to comment on a report in Tuesday's Commercial Times newspaper in Taiwan that Hon Hai Precision Industry, which is the world's largest contract manufacturer of electronics, had received an order from the company to make smartphones.
This week some analysts have also been publicly contemplating an acquisition of Palm by Dell as a fast-track into the phone and mobile device market.
Dell said buying other companies remains an option for expansion into the smartphone market but that its acquisitions focus is elsewhere at present.