At a Glance
Expert's Rating
Pros
Netflix, Vudu, and YouTube support
Above-average image quality, design, and usability
Cons
Full manual only on CD or online
Our Verdict
LG's 42LH50 42-inch HDTV sports transparent edges that provide a chic accent to the usual shiny black bezel, broken up by an unusual dip in the lower-right edge where the power-on light glows blue or red. Not only is the 42LH50 good-looking, but it's the one you want if you're looking for an Internet-connected TV. It has built-in support not only for Yahoo Widgets but also video-on-demand from Netflix, Vudu, and YouTube. Add the set's above-average image quality and generally superior feature set and usability, and the 42LH50 is a winning combination.
The LG experience starts out a bit inauspiciously; you won't find a quick-start guide, per se, in the box. But it turns out that the skimpy printed manual functions as a quick-start guide, so what's really missing is a full-blown printed manual, and that omission is one of this HDTV's few weaknesses. LG does, however, offer an excellent, well-illustrated manual on an included CD, and this manual is available online, too.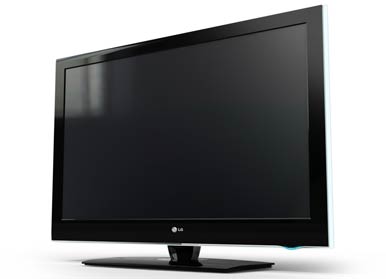 Inputs are easily accessible, and the first-time wizard guides you through language, home versus retail mode, time setting, and network setup before beginning its automatic scan for channels. Network setup proved nearly instantaneous and effortless with the set connected via ethernet to a router with DHCP enabled, and in my tests it prompted an immediate but painless software update.
The menu button brings up eight simple icons for fine-tuning everything from channel listings (you can choose to exclude channels when you're browsing with your remote) to settings for picture, sound, timer/clock, network, inputs, and parental controls. An Options icon leads to several miscellaneous functions, including settings for allowing the remote to control other devices and for labeling inputs.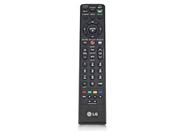 Preset picture modes include standard, vivid, natural, cinema, sport, game, and an Intelligent Sensor option that promises to adjust for ambient lighting. If you'd rather make tweaks yourself, you can adjust the backlight, contrast, brightness, sharpness, color, and tint settings to your liking through a handy picture wizard that gives you images to match; once you're done, you can save those adjustments in either of two Expert modes.
In our juried tests in our lab, the 42LH50 earned above-average scores on all counts. Its 120Hz refresh rate probably helped it on sharpness and detail, but on our motion tests its results were only average. This HDTV also did well on color and brightness/contrast in our tests.
The audio options include what LG calls Clear Voice II technology, which basically subdues loud background noise to help you hear spoken words. In addition to the usual treble, bass, and balance controls, LG also provides audio presets: standard, music, cinema, sport, and game. Both the overall audio quality and the surround-sound simulation were quite good, but not the best in our test group. With The Phantom of the Opera on Blu-ray played at full volume, we heard very little distortion (although the sound wasn't particularly loud).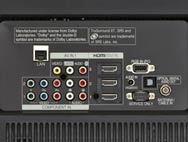 The 42LH50 lets you view JPEG images and play MP3 audio files on either a USB thumb drive; it can also access a shared network folder, but you have to by using a PC running Windows. You can set up music on a thumb drive to play while you're running a slideshow.
The remote control for the 42LH50 is one of the best I've seen, with all of the buttons clearly labeled and appropriately laid out (although a backlight would have been nice). You can program it to control other electronics, too.
A Quick Menu button near the top makes accessing several key settings (including aspect ratio, picture and audio mode, and closed captioning) a breeze—the settings appear as icons on a wheel that you can scroll through. A dedicated Input button makes switching between video sources easy, and the remote also has an energy-saving button for toggling between an automatic setting (based on ambient light) or manually choosing from three levels of power consumption. LG says that the default power setting for home use conforms to Energy Star 3 requirements.
Pressing the Netcast button brings up a menu for the on-demand video services. Setting up Netflix takes only a few minutes (you must log in on a computer to link your account to your set). Afterward, when you log in on the set, you see the first few items in your queue that are available on demand. I did not try the Vudu service, which lets you buy or rent movies and TV shows.
LG Electronics 42LH50
| | |
| --- | --- |
| Performance | Good |
| Features | Superior |
| Design | Superior |
Scale = Superior, Very Good, Good, Fair, Poor
You can sign on to your YouTube account to view favorites. The videos can display in full screen (though the quality is poor, as you'd expect when viewing YouTube on a large, high-resolution screen) or alongside information about the video, including ratings and how many times it has been viewed.
The remote also has a dedicated button for accessing Yahoo Widgets. You create a user profile with up to 8 of the 11 (at this writing) available widgets, including ones for Flickr and Twitter.
Macworld's buying advice
The LG 42LH50 is a competitively priced HDTV, and has little to dislike. Though this model may not sit at the very top of the heap for image and sound, it comes darn close, and it is among the leaders in design, features, and ease of use.
[Yardena Arar is a contributing editor for PC World.]